If you've read my previous blog, 3 Vacations You Didn't Know You Needed, then you know a family vacation is 1 of the 3 vacations I think everyone should take at least once of year. So, to celebrate the 4th of July this year, our family took a trip to the Concrete jungle where dreams are made of, where you're inspired by big lights, and there's nothing you can't do. Yes, I'm referring to New York City. For a family of 7 traveling to the Big Apple can be pretty expensive. Here's how we were able to navigate the big city without breaking the bank…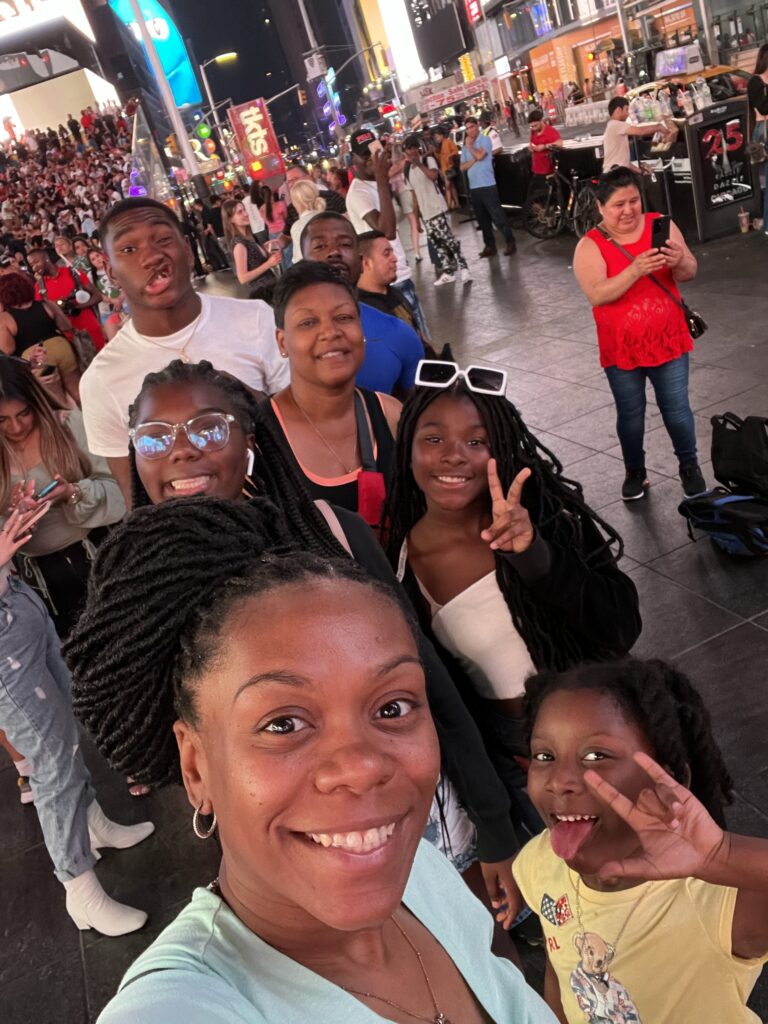 Transportation
With airline prices higher than usual, finding cost efficient flights may seem like a thing of the past. However, the key is to be flexible. There are 3 major airports in NYC, instead of picking one ourselves, we let Google flights tell us which airport would be less expensive to fly into. I love how the calendar view allows you to see prices by the day helping you to compare. Although our home airport, Greenville Spartanburg (GSP), offers direct flights to LaGuardia (LGA), it wasn't cost effective. So, instead we found a great deal from Charlotte, NC (CLT) to Newark, NJ (EWR) non stop for 225.00 roundtrip with American Airlines. A good tip when booking flights online, clear cookies before you start looking, or shop in incognito (private) mode for lower prices.
New York has one of the best public transportation systems, so I wouldn't recommend renting a car. Besides the limited parking, bad traffic, and the additional tax added on rentals, it can get very expensive. Since we flew into Newark, NJ and our hotel was in Downtown Manhattan we took the Newark Airport Express, departing right outside of the airport's terminal. This airport shuttles runs daily on a set schedule to Grand Central Station, the Port Authority Bus Terminal, and Bryant Park. You don't need to purchase tickets ahead of time (as long as you have exact cash). For 7 people our cost was $104 and it takes about 45 mins to get to NYC.
Hotel
We found that staying in Times Square was a little to pricey, so instead, we settled in Downtown Manhattan at the Hyatt Grand Central New York. This hotel's location is perfect. Not only was it within walking distance from Times Square, but it is also located right next to Grand Central Station, making it easy to access the rest of New York. We choose the 2 double bed room with upgraded furnishing and city view, which was a perfect for our family. For 2 rooms, our total was $2067.00. However, you should be prepared for the $100/night hold for incidentals. Since we were staying for 4 nights and had 2 rooms, that was an $800 credit card hold (ugh).
Getting around
The best way to experience New York will be with your metro card and the subway. It's the key to the city. You can start with $20 and reload as needed. I suggest downloading the app Rome 2 Rio. In my opinion it is the absolute best, because it provides the line (subway) schedules to around the city. Just turn your locator on and it will show the nearest subway line, the best line to travel, and the times of arrival.
We took the subway to visit both China town and Little Italy. We ate at The Red Rooster in Harlem. I'm a sucker for a good chicken and waffles. The children got a chance to visit the beach and ride the Cyclone on Coney Island. We took pictures on the Brooklyn Bridge and rode the ferry (which is free) to visit Staten Island to do some shopping. The ferry even provided great views of the Statue of Liberty. On our last night we hung out in Times Square to people watch. We were able to visit all 5 boroughs for half the price of an Uber or a rental car.
Thoughts To Myself Like…
Being from the South, I've always been fascinated with "up north". In comparison, everything is so fast paced. After several visits, I understand now why New York is known as the city that never sleeps. There's always something to do and see. I'm not sure if it's vast difference of the people or the 99 cents pizza joints open late nights, but it will always be one of my favorite places to visit. The lights, the tall buildings, the people all scream I'm from the greatest city in the world, and I can do as I please lol.
As Always,
Dream. Travel. Live. Repeat…