Celebrating my 31st birthday in Aruba was quite an experience. After traveling to Dubai two years ago, I was sure nothing would measure up, or at least I thought…
My first introduction to Aruba was years ago through the Natalie Holloway's disappearance case. So I'd be lying if I said, traveling here to celebrate with my close girlfriend didn't bring apprehension. However, if watching the news and traveling has taught me anything, it has taught me to watch in balance. Once we arrived, and were able to link up with more friends (who were also celebrating a birthday), that apprehension was gone. My only thought arriving was "Beautiful".
We stayed in the newly renovated adults-only Renaissance Marina Hotel at the Renaissance Wind Creek Aruba Resort. On the side for families, you can find their Ocean Suites. This resort is located in Oranjestad (the capital) and is considered "downtown". So, finding something to do and see was not a problem. I'd say this was the more luxurious side. Palm beach, however, is where most of the resorts and bars are. Everything is located near each other, so a trip in a taxi or bus wasn't too bad.
When I do decide to return I will stay in this exact hotel. There was a mall, a 24 hour casino, a few clubs, and a water taxi that traveled inside the hotel to pick you up and take you to Flamingo Island. The hotel's own private island (complimentary). We were able to enjoy taking pictures with the flamingos, drinking delicious cocktails and bar finger foods.
We did a 7 hour excursion riding UTVs around the island which began at 8am. Too early for me, but as the sun came up we were very thankful. We saw so many awesome views and learned so much about the Aruban culture. On our last stop, we enjoyed an all you can eat buffet lunch and water slides on a private island provided by our tour company.
Aruba was so much fun and much needed! Although I've checked it off my bucket list, I wouldn't mind spinning the block one more time! #OneHappyIsland

Fun Facts/Background of Aruba
Aruba is a very small island and runs about 19.6 miles.
There are no stop lights only roundabouts.
It has the lowest crime rate in the Caribbean.
The people of Aruba speak 4 different languages: Dutch, French Spanish, English, & Papiamento (African dialect, Indian, Spanish, English, Portuguese, Dutch)
No private beaches all public. Therefore, you can own a house on the beach but the beach isn't yours.
January 14-17, 2022
Renaissance Wind Creek Aruba Resort
American Airlines from GSP to AUA w/ short layover
Travel Insurance
Total for 2: $3,851.88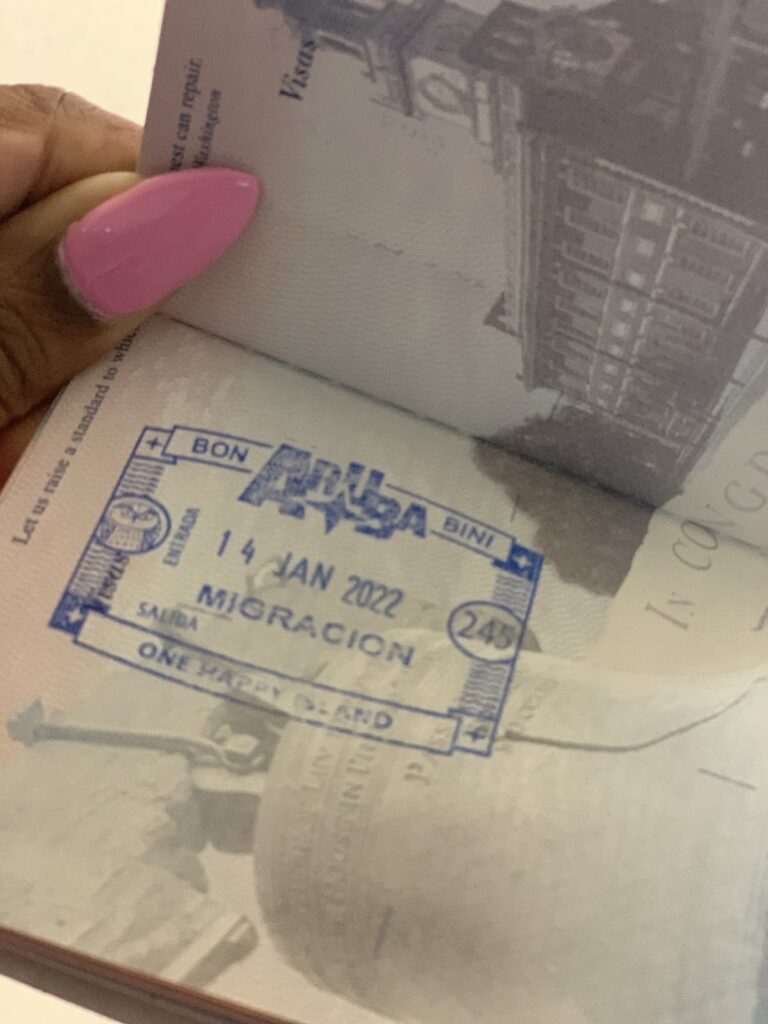 **ARUBA'S COVID REQUIREMENTS UPDATE**
Effective March 15, 2022, all travelers will no longer be required to present a COVID-19 negative test result or proof of vaccination. All travelers will still be required to complete Aruba's Embarkation/Disembarkation Card before arrival, which is the country's digitized customs and immigration process. Aruba visitors insurance is still required for all visitors.
Renaissance Aruba provides on-property COVID-19 antigen tests to all guests staying at the resort for $50 per person or a PCR test for $125 per person.
Meet & Transition with Tiyah