Booking: Delta Vacations: (Hotel + Flight) = $742
When: Jan 13-16, 2018
Hotel: The Mirage ($36 daily resort fee)
Flight: Delta Main Cabin flight
Occasion: Kia's 21st Birthday
In preparation 
Because I'm a mother of 3, getting the children ready while my husband and I vacation, is a task in itself. They usually get split up. My oldest 2 fight constantly, so I try not to overload anyone.
I figure it's the least I can do, right?
It takes a village!
This time, Jacari went off with my mom. Jordan went with her Aunt. While Zoe went with her cousin/Aunt (you know; the cousins who are much older so you just adopt them as your aunt). Yes, my village is amazing! Even knowing the plan weeks leading up, I still managed to wait until the last minute to pack for ALL OF US.
Tip:
Before your flight be sure to check in 24 hrs in advanced. There's usually an App for your airline so check- in is pretty straightforward. This can be a real time saver! 
Time for TAKE OFF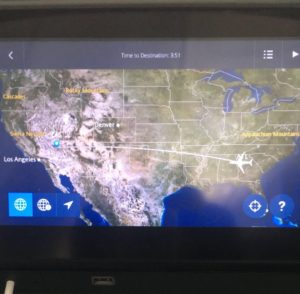 We had an early morning flight from Atlanta at 11 am. The drive takes a little over 2 hours from Greenville, SC, so we hit the road around 6 am.
We usually fly from Atlanta because our local airport GSP, ONLY offers Non- Stop flights to 14 destinations and Las Vegas was not one of them.
(I'm not a fan of layovers, unless the deal is right)
FYI:
Atlanta airport is currently going through construction depending on your flight and airline there may be some delay. Be sure to minimize as much of it as possible. A missed flight is the worst. 
Money Saver
Sign up with your airline's frequent flyer program to start racking up on skymiles. The savings and perks are definitely worth it. I cashed my SkyMiles in with Delta for $79.29 (not too bad)
Day 1 Finally… Vegas Baby !!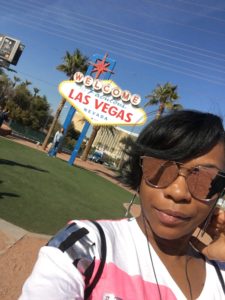 As soon as you walk off the plane, BOOM…slot machines. That's crazy!
(Oh I guess I should have mentioned this was our first time in Las Vegas.)
The Strip is about 10-20 mins. away from the airport, depending on traffic, so finding a ride to your hotel should not be a problem. Unless your hotel includes airport transfers. Ask!
We settled for SuperShuttle at $40 (round-trip transportation for 2)
Tip:
If you don't have any, I suggest you make plans for return. I find it one less hassle to deal with, especially if you have an early flight out 
The Mirage was amazing and the rooms were very nice. We stayed on the 15th floor with a view of Caesars Palace.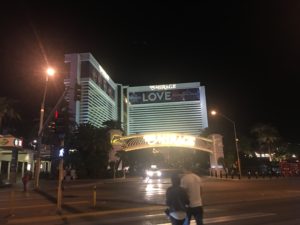 The mini fridge was filled with snacks, beer, wine etc..Do Not Fall For it. I'm not exactly sure how much it cost, but I didn't want to find out.
Tip:
Call the hotel in advance to get information on resort fees, special taxes, and incidental holds. Always be prepared!
To kill time until the other half of our group got there, we grabbed some pizza from the strip. Then we hit the slots!! I am not a gambler, but the lights and the sounds of winning caught me.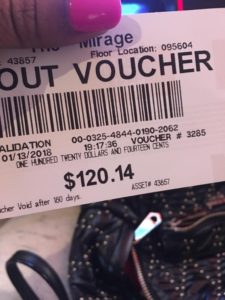 Luckily for me though, I know when to hold 'em and when to fold 'em. I walked away with about $120 playing the Penny Slots.
Did you know?
The carpets in the casinos are designed to look awful to keep your eyes off the floor and on the machines. Crazy right! So next time you're there and you want to keep your $$ Look Down!
Time to hit the strip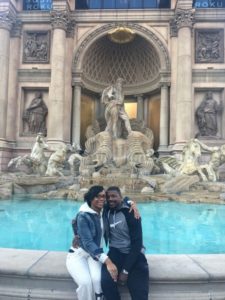 The other half stayed at Treasure Island, which is next door to The Mirage. There is stram between the two, which made it a lot easier.
They came prepared, so after shots, we were ready VEGAS STYLE.
When in Rome… Do as the Romans!!
There were a couple of people in our group who preferred "a more herbal approach to life" and being that Las Vegas has now legalized "the herb" for both medical and recreational uses, we had to find a dispensary, right?
After walking for what seem like an eternity, we found the Reef Dispensaries.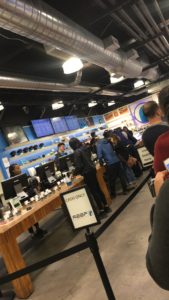 Here you'll find your Khalifa Kush, waxes, edibles, you name it. Just don't forget your ID and Cash!!
If you're celebrating a birthday, you get a "special gift" you must show ID of course.
Tip:
Although weed is legal in Las Vegas, there are still a lot of places that will NOT allow you to smoke (not even on the strip). Be Careful !!
The "24 Hr Pact"
When  J and I got to Vegas we made a pact, the first night WE'RE GOING INNN…. 24hrs!!
So when the others decided to call it quits and head back to the room, we hit Drai's.
Tip:
If you're plan on hitting the town and know where you are going…Check the websites Event Calendar. 
Best decision we had that day! When I say, LIT (Under 25 word, ). The DJ was on POINT, with a live band. I danced the entire night!
Wiz Khalifa was a guest performer and brought out Ty$ for their song Something New (My Jamzzz by the way!!). It wasn't until around 4 am when we made it back to the room.
Day 2 Fight Back!!
After day one of drinking and walking, we decided to get a rental car.
My sister in law found a really good deal through Expedia for a 7 passenger van. Yep, we were mobbing in a van!
For breakfast or more like brunch, after all of the spending we did the first day, we figured IHOP was the way to go.
I called it our "fight back" meal.
$10 Tattoos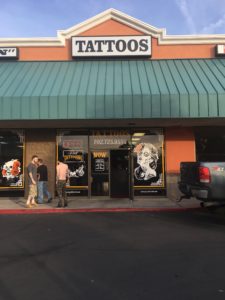 We drove around for a bit until we saw a sign for "$10 Tattoos." How could anyone resist?… Why not?
Turns out the tattoos were NOT $10. In hindsight though, who really wants a $10?!… YIKES 
The Owner Jesse James at All-N-Tattoo was cool about it though (It wasn't his sign). So instead he hooked us up with a nice little group deal.
The Fellas enjoyed his smoke shop section and played a couple of games pool. While the ladies got tat tat tatted up.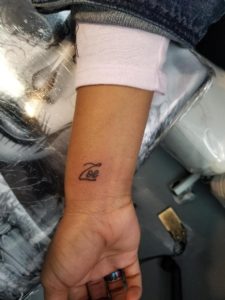 Fremont Experience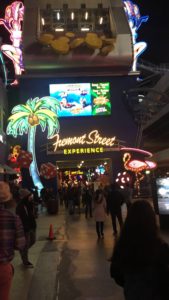 After tattoos, we headed to "The Fremont Experience", a huge outdoor shopping mall Downtown Las Vegas.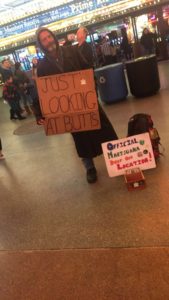 Once again, Vegas hits you! At the entrance, there's a huge LED canopy, the SlotZilla Zip Line, more casinos, restaurants, bars, street performers, you name it. So of course WE HAD A BALL!!
I was a able to grab some souvenirs for the family. Then some of us grabbed a couple of slices of pizza from Pizza Rock.. THE BOMB!!.
Yes, pizza again!! I'm not a foodie (too picky) but I do LOVE ME SOME PIZZA…. but don't eat cheese. That's another topic for another day.
As the night went on you could tell the time started to wear us down. So we headed back to our rooms.
Day 3 Last Day.. Make it Count
Apparently, we all felt the pain from last night partying, because we didn't hit the strip until the afternoon.
This time we really got a chance to see some of the the places we didn't the first time.
In front of the Bellagio... we watched the Water and Light Show dance to Michael Jackson's Billy Jean. At night, the view is AMAZING!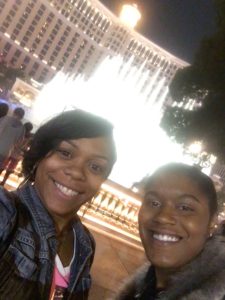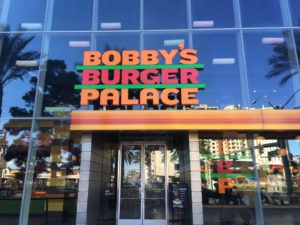 I grabbed a turkey burger and fries from Bobby's Burger Palace. I am a huge fan of Bobby Flay.
IT DID NOT DISAPPOINT!!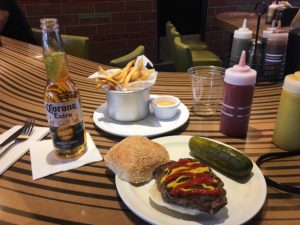 We even saw the Eiffel Tower in… Vegas, how dope is that?
I mean every little step counts, right? This time Vegas, next time Europe.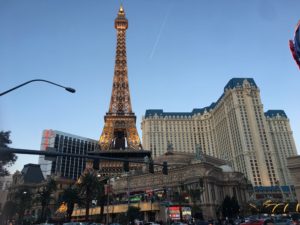 The Big Apple
Further up the strip was the New York New York and their Big Apple Coaster. The other half decided to ride. As I write this, I'm a little upset I didn't ride either. Definitely next time!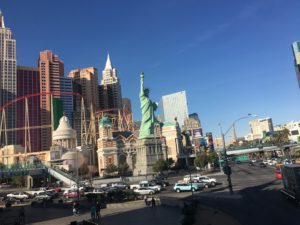 While J posted at the bar to watch some game, I took my drink to go and sat down at the "Penny Slots". I won $92 bucks too, and then I lost $40 (I had to let it go).
Did you know?
One of the biggest wins in Las Vegas history was in 2003. A 25-year-old software engineer won 39.7 million after $100 bet in a Megabucks Slot Machine at the Excalibur Hotel
After the gambling and roller-coaster we headed to Fat Burger for some food, then back to our rooms. We had intentions on one last run of the town, but it seems our bodies had other plans.
Last Day Goodbye Vegas…We made it out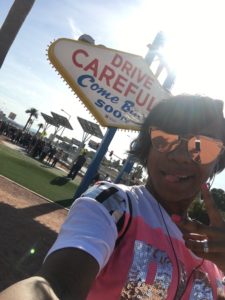 It was an early morning for us because our flight left out at 11 am. The others had a later flight. We ate breakfast at one of The Mirage's restaurants "Pantry".
The vanilla waffle and turkey bacon was the icing to a GREAT WEEKEND!
There we waited until the SuperShuttle text letting us know our ride was waiting!
Thoughts to myself like….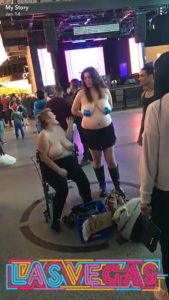 Las Vegas was everything I intended it to be and definitely one for the books.
Everyone came out alive, maybe with a little less money, but still alive.
So if you're looking for that "Big Win" maybe you should visit Las Vegas and try to get a date with Lady Luck herself.
Just be careful, she can play dirty. She's known for taking your wallet and leaving a note on the nightstand.
The Travel…Outlier
And as always….
Dream. Travel. Live. Repeat!!