Allow me to reintroduce myself… My name is HOV…
H-to the- O-V … I used to move ….
OK… OK… (Clears throat to get serious)
What's up people??
Well my name obviously isn't HOV.. It's Alecia Brockman.
What's yours??…
No seriously, I want to know… Leave me a message! 
I'm obviously on to something if you've made it this far… So here goes…
I was born August 23, 1987 (Virgo in the house!) Alecia Danielle Mckinney. In no particular order I Love: family and friends music (I'm always rapping or singing), Harry Potter, traveling, sweet tea, Mr. Goodbars, The Culture, and cheese pizza (but I don't eat cheese)!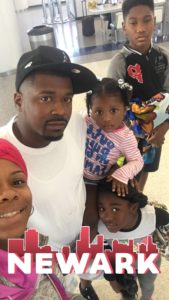 I live in Greenville, SC with my husband James, I call him J, and my 3 children: Jacari, Jordan, and Zoe.
There will be more stories about them later. I would hate to lose followers ALWAYS talking about my husband and children. Soooo… I'll be subtle about it.
(Pause for laughter)
I'm the only child, and so is my mom. As you can see, I did not follow the family model.
I was bit with the travel bug very young… 
When I was 3, my mom and I flew to Germany. I'm not sure if I remember the trip or if I've heard the stories too many times.
We we're no strangers to the highway either, thanks to our annual Goldsmith Family Reunions (still going strong)!
Rather it's 85 south to Florida, 26 to Charleston, 85 North to New York, and crossing states in between, we hit the road.
Then you grow up…
I became a teenage mom at 17, but still managed to graduate high school and go to college. I completed about 3 years and quit (not one of my brightest).
The experience however was AMAZING. I met some really dope people who I still keep in contact with today…
Fast-forward…
A couple of years, married with children, while working a Full Time (still) job later, I managed to go back and get my Associates Degree in Criminal Justice. I wanted to be a lawyer, maybe still someday, but not today.
I discovered what brings me joy and that was traveling. 
Let me show you!
The Travel…Outlier
Dream. Travel. Live. Repeat