"For a name written carefully in the sand says "I remember" and is a gift of great love."

Unknown
Before The Travel Outlier, there was always this Dream of traveling the world with dope people; seeing and experiencing new things around the globe. I realized that before that Dream could be fulfilled, I had to first believe I could do it.
Self- efficacy is a person's belief in their ability to complete a task or achieve a goal. For the past FIVE YEARS I've been practicing that belief. I'm happy to report and that each year it gets easier! The Dream is a now reality.
The Outlier's together have experienced two countries so far: Mexico and St. Martin. This year we'll get a chance to cross South America off our list while experiencing Cartagena, Colombia.
On the last experience, one of the Outliers wrote TOE22 in the sand and sent me the picture. Every time I see it… I smile. It's a reminder that others believe in the Dream too. That practice makes perfect, and I'm exactly where I need to be.
What we do, see, feel, taste, hear… all shape our experiences, so feed your senses with The Outlier's Experience aka TOE!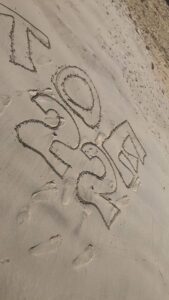 " Thank you for such a great experience of being able to travel the world and explore new places with TOE! From the time we arrived, to the time we departed … it was all laid out in details with no miscommunication. I really enjoyed myself and can't wait to experience somewhere else new."

Outlier's Review
Sheneka Butler