This article may contain affiliate links and I may earn a small commission when you click on the link at NO additional cost to you
Last year, the travel agency booked more vacations than it had in it's entire existence. That let me know one thing. That despite the pandemic, there is a pent up demand for leisure travel. The Outliers requested information and booked vacations literally all over the world, but no where as popular as the 5 listed:
1. Montego Bay, Jamaica
For most people when you mention the Caribbean, Jamaica is likely the first stop that comes to mind. With the islands laid back spirit, near perfect weather, and bomb Jerk chicken, there's no secret why it landed as number one on our list
Best Time To Travel
Right before peak season, mid November until mid December is when flight and resort deals are great. However, the best weather can be found during mid December until April. Since other people know this as well, prepare for crowds and higher rates. The same can be said for the summer months during peak season.
Favorite Resort
Secrets Wild Orchid Montego Bay- All Inclusive
BOOK NOW
COVID Requirements/ Travel Authorizations
As of 1/22/22
Apply for a Travel Authorization within 7 days of your travel date.
All travelers who are 12 years of age or over, will be required to present a COVID-19 PCR or Antigen test (no home test) that has been authorized by the United States Food and Drug Administration (FDA) under an Emergency Use Authorization (EUA) or meets the standards of the World Health Organization (WHO), to the airline representative at check in. You will NOT be able to board without it. The date of the test sample collection must be less than 3 days from the date of travel.
A negative test result must be presented in order to complete check in for a flight.
ALWAYS For the latest COVID requirements for Jamaica click HERE
2. Las Vegas, Nevada
Sin City… gambling…late nights and early mornings. The last time we went we forgot our room number.. So yes, I can see why Las Vegas was the number 2 destination on the list.
Best Time to Travel:
Since Las Vegas is a seasonal city, prices can and will vary. Especially if there's a major event happening. So flexibility is KEY. From March to May and September to November the weather is nice (cool nights) with fewer visitors, which mean better hotel rates. The exception because there is always one right?!.. Spring Break (go figure). The Summer months see both high temperatures and high hotel rates.
Favorite Resort
The Venetian Resort Las Vegas
Booking.com Ad
3. San Juan, Puerto Rico
With increased passport processing times, some of our Outliers were looking to get their feel of the Caribbean without having to need a passport which is why Puerto Rico made it to number 3
Best Time To Visit
Some of the best weather can be found during the winter months. Unfortunately, this is also the time of the year for heavy crowds and possibly higher rates. After the busy winter and right before the rainy summer months, mid April – June, is considered the best times to travel to Puerto Rico.
Favorite Resorts
Although Puerto Rico doesn't have any All Inclusive options, there are still some great resorts in the area.
Embassy Suites by Hilton San Juan Hotel & Casino
Booking.com Ad
San Juan Marriott Resort & Stellaris Casino
Booking.com Ad
COVID Requirements
If arriving on domestic flights you're required to show a negative COVID-19 test ( antigen or PCR performed by an authorized health provider) taken within 48 hours before arrival time, regardless of vaccination status. Passengers arriving without a test will have 48 hours to take one upon arrival or be subject to a fine. Unvaccinated travelers must quarantine for 7 days after arriving, regardless of whether they have a negative test result.
On Aug. 23, all patrons and employees of restaurants, food courts, bars, chicharrons (food stands) and any other indoor location where food and beverages are prepared and served must show proof of vaccination in order to enter. Those not vaccinated will be required to provide a negative PCR or antigen test upon entry. Children under the age of 11 are required to keep masks on at all times while in the establishment, except for when eating or drinking
ALWAYS For the latest COVID requirements for Puerto Rico click HERE
4. Destin, Florida
Who ever said white sand beaches and emerald blue water was only in the Caribbean… must have never been to Destin, FL. Sitting on the Florida Panhandle on the Gulf of Mexico, this beach town offers some of the best views and seafood restaurants around.
Best Time To Visit
Fall can be considered the best times to travel for less crowds and cheaper rates. The Spring and Summer months are considered peak travel times. So, expect a crowd and higher rates. However, April – May have been considered the shoulder season, which is basically the sweet spot between high and low season. When price, weather, time is perfect.
COVID Requirements
All beaches in Destin are open.
Favorite Resorts
Hilton Sandestin Beach Golf Resort & Spa (although technically near Miramar Beach)
Booking.com Ad
5. Cancun, Mexico
Last but definitely not least, Cancun, Mexico. Even the Outliers couldn't deny the pull Cancun has on you. I've been six times and each time there is a new experience. In fact it was the first stop for #TOE21. The culture, the food, and history are always worth seeing more than once.
Best Time to Visit
The key is booking in advance. I've stumbled across some very affordable tickets just by planning ahead. Cancun's peak season is December to April, an although crowds are heavy, you'll find some of the best weather it has to offer. Hurricane season is from June through November. However, July and August is known to see less rainfall (September through October being the most)
Favorite Resort
Breathless Riviera Cancun Resort & Spa – All Inclusive
BOOK NOW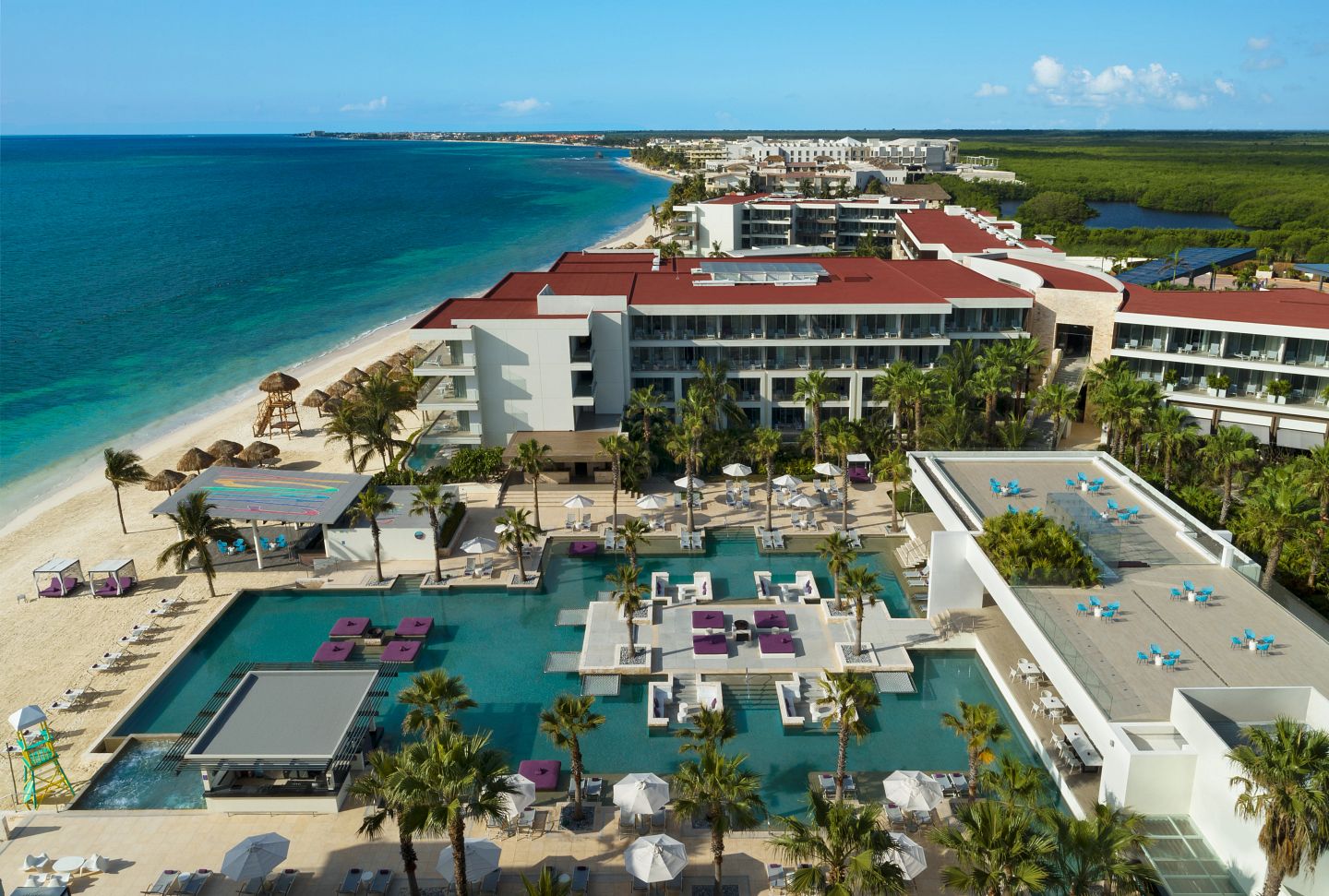 COVID Requirements
Mexico is open to travelers. There is no need to provide negative test or quarantine. However you will be required to present a negative COVID test 1 day before arrival back into the United States, regardless of vaccination status.
Thoughts to Myself Like….
(Editor's note)
In a world post COVID, humans are doing exactly what they do best, adapting. I'm just glad I was able to help my Outliers do just that. There's no going back to way things were before, so we must press on. Even if that means following COVID protocols while traveling. They say you don't miss something, until it's gone. Well 2021 for us proved leisure travel was surely missed!
As Always,
Dream. Travel. Live Repeat…