For this year's anniversary, aka my 33rd birthday, the family and I had just about enough with the quarantining. Determined not to spend my birthday and the end of summer vacation at home, we looked for (in our opinion) some "social distance" friendly places to visit. We figured if we picked somewhere within a reasonably driving distance, it would be even better. So we settled on New Orleans. This was our 2nd time visiting, so we were excited to see some of things we didn't get a chance see on the last visit. Besides, if you've ever been you know it's just one of those places you go to again… and again.
AD
So here's my list of "more" things to see, do, and eat in New Orleans:
Faubourg Treme
Luckily for us our Airbnb was located in neighborhood of Treme', which is a 5 minute drive from downtown New Orleans (Canal St/ Bourbon St). Even better Treme' is the oldest African American neighborhood in the United States. A place of pride where free people of color were allowed to buy property. Over 80% of the land at the time were owned by Africans Americans, and of course this would create a whole new flavor, or Jazz music as the world may know it.
12 Years A Slave
This was also the former site of the Theophilus Freeman's slave pen, where Solomon Northup, a free man of color was sold into slavery. The story is chronicled in his 1853 memoir "12 Years of Slave" and later in the movie of the same name. If you've seen it then you know just how awful the experience was.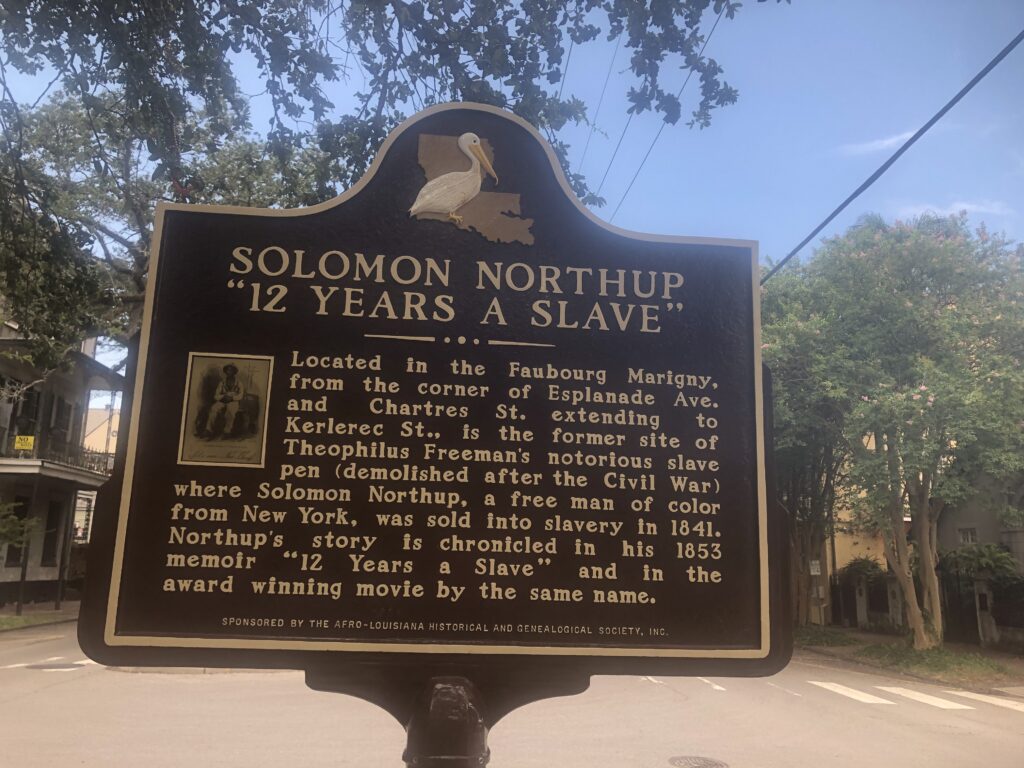 The Domestic Slave Trade
Once congress abolished the international slave trade. This caused a huge increase in domestic slave trade, better known as trafficking in the United States. For 57 years to follow, about 2 million men, women, and children were separated from their families. At the center of this trade: New Orleans. More slaves were sold here than anywhere in the US.
Dooky Chase's
Restaurant:
Also located on Treme', is Dooky Chase's. It was founded by Edgar "Dooky" Sr. and Emily Chase in 1941. What would start as a small sandwich shop and a place to buy lottery tickets, this restaurant would eventually become a respected icon in New Orleans. I had the stewed chicken and it was falling off the bone just the way I like it.
New Orleans
City Park
We skipped the Botanical Garden and Besthoff Sculpture Garden, that's also located in the park, for a more budget friendly enjoyment. I was glad we stumbled on this little gem, because I was reminded that there's still things to enjoy without spending money. The park is one of the oldest urban parks in the country (est. 1854) and home to the world's largest stand of mature live oaks. Definitely a great backdrop for pictures. There's even a playground for the kids to enjoy.
Cafe Du Monde City Park
You really can't come to Louisiana without grabbing some Beignets, or simply fried fritters. Luckily for us there was a Cafe Du Monde in the city park. Due to the pandemic the cafe inside is closed. However, they are still serving curbside, so I recommend getting a bag or two to enjoy.
Canal St. &
The Creole House
If you're familiar with Canal St. then you know shopping and eating go hand in hand. This street has served as the retail heart of the city since 1850. One restaurant in particular that did not disappoint was The Creole House Restaurant and Oyster bar, serving Southern Louisiana Cajun and Creole cuisine. It stands as the oldest building on the street. I think this was everyone's favorite.
Laura's Candies
In the heart of the French Quarter, established in 1913, you'll find the oldest candy shop in New Orleans. As we were walking, it was the smell of the fresh hand-made creole pralines that caught our attention. Now I am not a fan of pralines, but they did have one of the best chocolate chip cookies I've tasted in a while.
Cajun Pride
Swamp Tours
New Orleans is a city surrounded by swamps, which makes it a low lying island; coming in at 2nd as the lowest in the country. So, we decided to take a trip outside the city to see some of Louisiana's natural beauty and wildlife. On the tour you'll not only see some amazing plant and animal life, but you'll also learn the history and impact swamps have on the city. Our Captain Danny gave us a full run down of the area; even telling us about a local Voodoo Priestess who is said to haunt the area.
Mambo's
Cajun + Creole
If you're looking for a refill while on Bourbon St, I'd definitely suggest this spot. The alligator shrimp pasta (son's favorite) and bread pudding is a must try. It was so good that we followed up the next day just to get a to go portion. It wasn't until I sat down to write this blog that I found out it also offers the 1st and only Rooftop Bar on Bourbon St.
The
Whitney Plantation
If you don't make it to any of the spots mentioned, please try to make this one. Yes please. It's about an hour from the city's center. There are many tour companies that offer tours, as public transportation is not available and ride sharing is not recommended. It is the only museum in Louisiana that focuses exclusively on the lives on slaves, and it's truly like stepping back in time. Read about the experience here.
Thoughts to myself like…
Although some of the restaurants and even some establishments are still closed due to the pandemic, we were still able to enjoy ourselves and socially distance at the same time. For a city so rich in culture, history, triumph, you can feel the resilience in the air. For that reason alone New Orleans will always be one of my favorite cities to explore.