Juggling jobs, children, and whatever else life throws at a marriage… can be tough. One of the ways my husband and I reconnect is through Travel. Studies have shown couples who travel together have a better sex life and more romance. So yea we travel lol. Last year for our 7th anniversary we decided to go a little further. The plan originally started with us visiting Thailand, with stops in Bangkok and the Phi Phi Islands.
I'd been working on a reasonable budget (or at least I thought) for the 2 of us for about $3000 which was to include: flights (there, between, and back) and hotel accommodations. Although Thailand offers great luxury for budget, getting there can be pretty expensive. So needless to say, I wasn't able to find what I wanted. There's 2 things travel has taught me: 1. Always be flexible 2. Stick with the budget.
I was desperate until I received a flight deal to Tokyo, Japan. I guess the 3rd thing my travels have taught me is deals don't last long, so be ready to purchase! Tokyo is 14 hours ahead of our friends and family on the east coast. So to adapt to the jet-lag, we added an extra day (Oct 2 – 9, 2019). Now the only thing left to do was finding somewhere to stay for the week. We didn't realize we'd be traveling during the World Cup Games, but again the sale brought us here lol.

Despite what you may think, Tokyo hotels are pretty reasonable. There are many budget conscious hotels in the area, but the only problem is they are a little on the small side. That's not what we wanted for a week. Operation 31 Euro taught us how to really navigate the public transportation system, so we're like pros now (insert gloat here lol). Not to mention Japan has one of the most efficient subway systems in the world. So as long as our hotel was near a substation, we were game.
We decided on Hotel Celestine Tokyo Shiba, which is about an hour away from the airport Tokyo Narita Airport (NRT). I like to have ground transportation already figured out when the ride is this long. Our superior double room had a great view of city and plenty of USB chargers (another favorite). So there wasn't a need for that $40 adapter I bought from the airport before we arrived (insert sarcastic tone). The service was impeccable and the wait staff was extremely polite. The hotel offers a main dining room that serves buffets / course meals, a café, and bar lounge. Prices were pretty steep in my opinion, so we opted for a more local approach aka The McDonald's around the corner.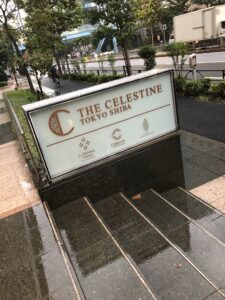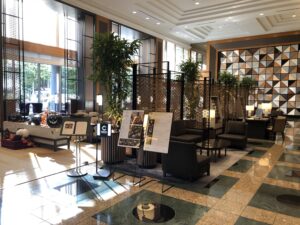 Thanks to the 2 subway stations that were within walking distance to our hotel and Rome2Rio app, we were able to really explore on our own terms, saving money along the way. Here's a list of some of our favorites stops and neighborhoods: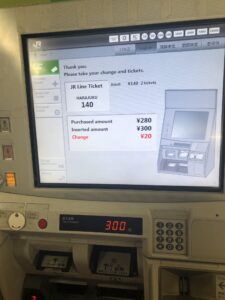 Shiba District
Located in central Tokyo, this was also where our hotel was located. I'd consider this more of a business district, but a great spot for first time visitors who's looking to save some money (by not staying in the city's center). It's also home to some of the most iconic architectures in Tokyo.
Tokyo Tower- a communications tower and observation tower that was inspired by the Eiffel Tower and is the 2nd tallest structure in Japan
Zojoji Temple – A major temple next to Shiba Park established in 1393, the main gate is said to be one of the oldest wooden structures in Tokyo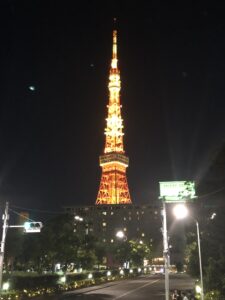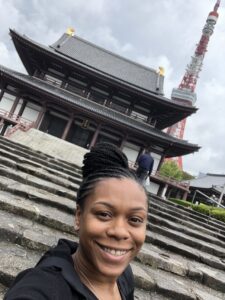 Ginza
This is considered Tokyo's upscale district and offers the latest in fashion. Here you'll find luxury brands like Chanel, Gucci, Patek, and so many more. The Ginza Yonchome Intersection is the perfect place to start your Ginza walk to see some of the symbolic architectures, like the Wako Clock Tower and the Mitsukoshi Department Store. It's also home to Ginza Six, a 13 story commercial complex with 241 stores, the largest in the district.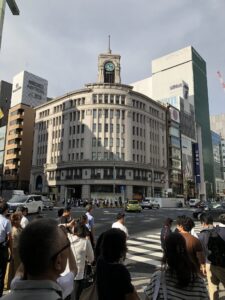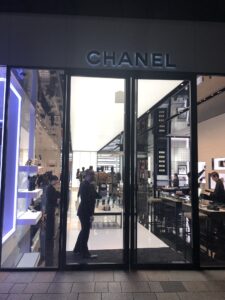 Shinjuku
One of Tokyo's major stops and considered Japan's greatest entertainment district. It's home to some of Tokyo's tallest buildings also. Since stores are typically built on top of each other, I'd suggest looking up… you never know what you might find. Keep walking and you'll find Kabukicho, known as the town that never sleeps. This is Japan's largest and wildest red light district featuring countless restaurants, bars, pachinko parlors (slot machines and pinball games), love hotels, and a variety of establishments for all sexes and sexual orientations. Explore with caution.
If you're not sure where you are just look for the large hotel with Godzilla on top lol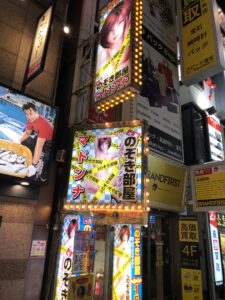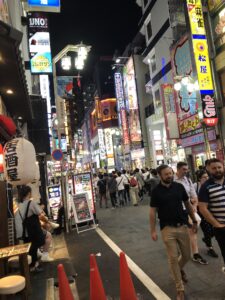 Harajuku
Located between Shinjuku and Shibuya is Harajuku, the center for Japan's teenage culture and fashion. The focal point is Takeshita- Dori Street. It's known for it's colorful street art, pop culture, vintage clothing stores, plus more. The narrow streets are lined with sweet shops, crepe stands, fashion boutiques geared towards a creative pop culture vibe.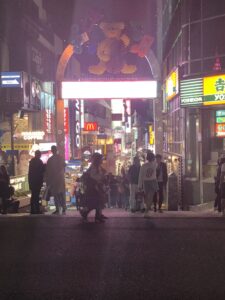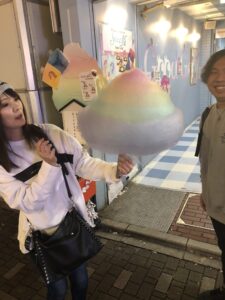 Roppongi
If you're looking to party, this is the spot for you. This entertainment district is filled with bars and nightclubs that both tourists and the locals will enjoy. Coming from a city whose nightlife shuts down at around 2 am, this was the total opposite. Most clubs here don't close until like 6 or 7 am. So yes, this is definitely party central.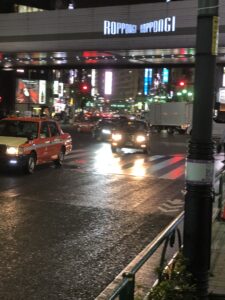 Asakusa
This was by far my favorite spot of them all. It spoke to the history lover in me. This district has an atmosphere of Old Tokyo and the streets are lined with old established shops that let you feel the mood of the Edo Era. Here you'll find some of Tokyo's oldest temples and shrines:
Sensoji Temple – A Buddhist temple, said to have been built in 628. It is the oldest temple in Tokyo and the symbol of Asakusa. It is also famous for it's main Kaminarimon Gate, where a giant lantern hangs.
Nakamise Shopping Street– Next to the temple on both sides are shops and restaurants where you can purchase your souvenirs plus more.
Tokyo Skytree– Not to far from the old town, is another broadcasting and observation tower and the worlds highest broadcasting tower. It is open to the public but unfortunately it was closed during our visit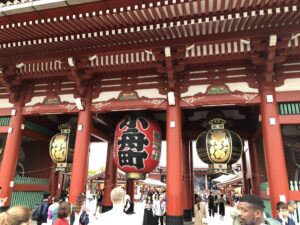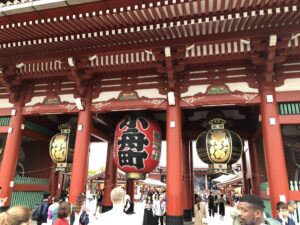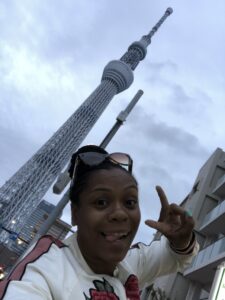 Of course there were many more stops like Shibuya and their famous Shibuya Crossing, rumored to be the most busiest intersection in the world. We made sure to get lost in country, after all that is the best way to explore. I know you're probably thinking … what about the food?! Sorry, this is the wrong post lol. Although I have somewhat of an adventurous spirit, I can not say the same for my taste buds. I'm the girl who only sticks with what I know. I'm still waiting on my taste buds to grow up unfortunately.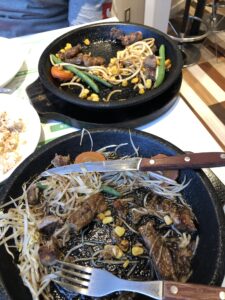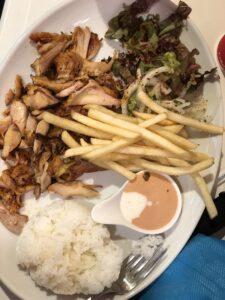 TOTAL TRIP COST
Oct 2 – 9, 2019
(2 )Round-trip Delta Airlines from CLT to NRT (w/1 Stop)
Hotel Celestine Tokyo Shiba
$2470.26
Thoughts to myself like…
WOW another continent crossed off the list with my partner in crime and travel. After 7 years of marriage and 3 children later, we still manage to find time to spend with one another. Traveling together has had a positive affect on our marriage, not to mention the way we communicate with one another. There's something to be said about being submerged in a different culture where they speak a different language. This trip saw some highs and even lows, but we managed to overcome them to together. Also adding he likes when I stay under budget lol!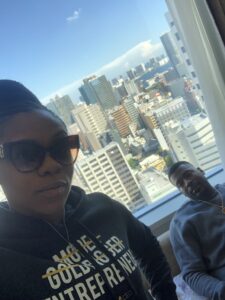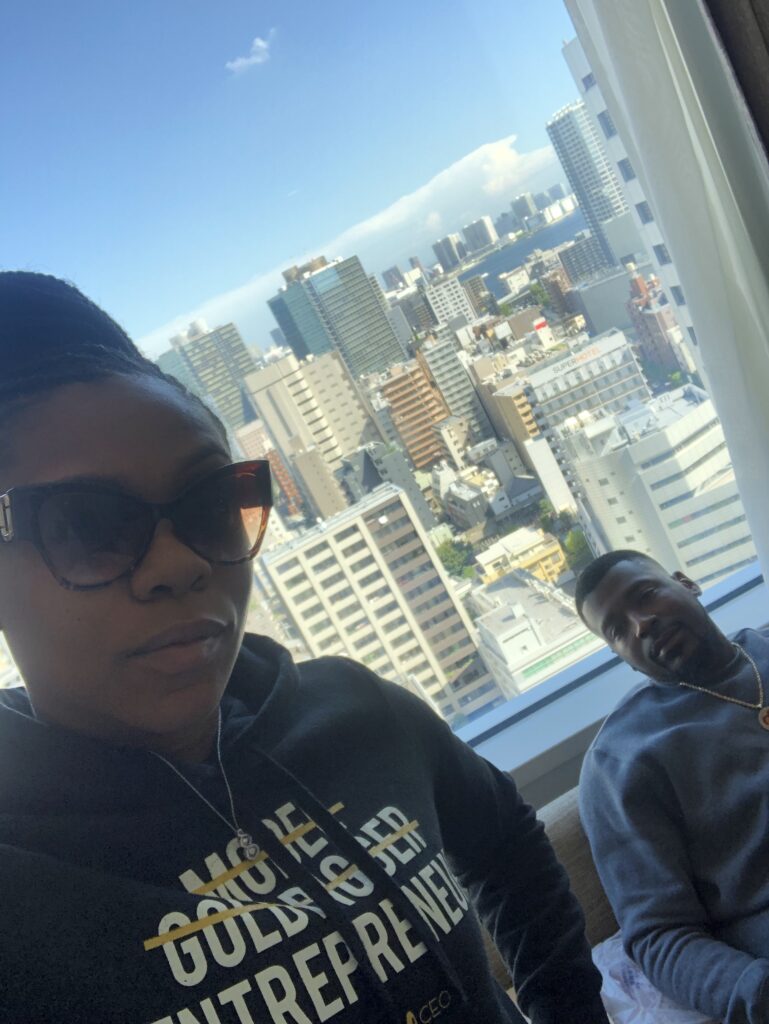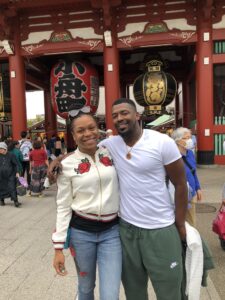 As Always,
Dream. Travel. Live. Repeat…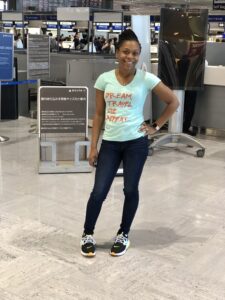 Click HERE to purchase our Dream. Travel. Live. Repeat… T-shirts