For this family vacation we decided it would be a good time to head out of the country. We have been on cruises before and visited the Bahamas, but this trip was different. This trip required for the family to get passports!! Since my husband and I already had ours that left my mom, the kids (3), and family friends. I'll add we did not have a great process either, as 2 of my children's passports did not arrive until literally 5 days before we were set to leave. Imagine the panic… don't let this happen to you. So if you happen to need details on applying for your passport click here !
I always suggest Mexico/ Caribbean to my clients as a nice introduction to their international journey. So for the family, the same rule applied. Since this was also their first time experiencing an all inclusive I had to go for a really good one, but I did more than that…
I think I may have found paradise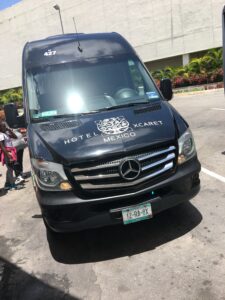 No seriously, I have never been to a place like Hotel Xcaret. It exceeded our expectations plus more. The hotel's website describe it as
more than just a resort, it's a destination rich in history, art, and entertainment
And I would agree. This All Fun Inclusive resort features unlimited food and drinks to all 10 restaurants. I'm talking authentic food from all over to fit any and all taste buds. They even offer 24 hour room service, and if that's not enough, throughout the resort are taco and fruit stands.
You'll have unlimited access to their 9 parks: Xcaret, Xel-Ha, Xplor, Fuego, Xsavage, Xoimilco, and Xenses, as well as Xenotes and Xichen tours. Only 2 requires reservations (Xoimilco and Xichen) and you can visit and eat as many times you like. Yes, the parks have restaurants also, and serving the same quality of food.  No need to worry about transportation, because it's included between the parks and even airport.  On arrival, you're giving bracelets which serves as keys to your room. Throughout the resort and parks are cameras to take pictures, you'll use these bracelets to activate them. At the end of your stay they're bundled in a package for you to purchase.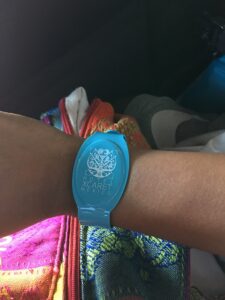 Out of the 8 theme parks we only got a chance to visit 4: Xcaret, Xcaret Fuego, Xsenses, Xchichen. You're likely to spend the entire day at all of the parks except Xsenses. The parks all have children areas but most rides don't accommodate for children under 5 years old. So that was out for us as we were traveling with a 4 yo. Even with this information, I would still recommend it if you have little ones.
Day 1
The grounds are stunning and a lot to take in. Walking through, feels like your apart of the Mayan jungle. There were caves and rivers flowing throughout the entire property. All rooms are suite style, the only difference is the view. For us, we went with the Suite River, overlooking the river of course. Your mini fridge is stocked daily with soft drinks, beers, and snacks. Yep also included. It was impossible to see and do everything but we tried. Our 5 day / 4 night trip wasn't nearly enough time. Out of the 10 restaurants we only ate at 5, and this was eating in a different restaurant everyday lol. When we arrived we were greeted with fresh made popscicles, and since it was a pretty hot day this was needed.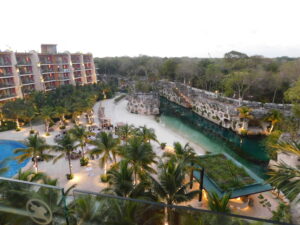 Restaurant of choice for lunch was #1 Mercado De La Merced. Decorated like a traditional Mexican Market, this restaurant offers 10 theme stations with everything ranging from Fresh fruit/Deli, to Tacos with all the fixings, to a pasta/pizza station. Here you can eat breakfast, lunch, and dinner.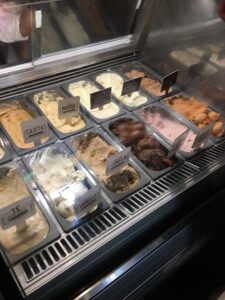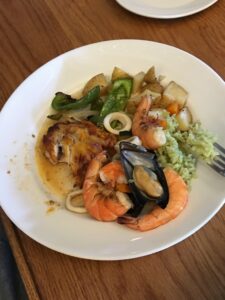 We spent our first day getting to know the hotel. Or at least trying to get to know it. It seemed everywhere you turned there was something new. Even better there's taco and fruit stands located throughout the resort. For dinner, we went with restaurant #2 La Trajinera. This restaurant is centered near the main pool and swim up bar. I'm not the foodie of the group so I'm not exactly experimental with my food, so it wasn't a hit for me. However the others in our group enjoyed this a la carte menu that mixed of land and sea dishes using a Caribbean flair.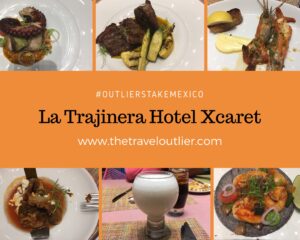 Day 2
started with Breakfast at restaurant #3 Chibali, serving International food buffet style with themed stations and snack bars. It wasn't until I sat down to write this when I read it was next to the Family Club (Another place we didn't get to see apparently lol.) From here you can take a boat to Xcaret Park. Since the river was low we wasn't able to take the boat, but again the shuttle runs every 20 minutes.
Xcaret Park is considered Mexico's Majestic Paradise. There's more than 50 attractions including archaeology sites, underground rivers and animals. Since the restaurants on the parks are included there were a number to choose from here. We went with the International Buffet.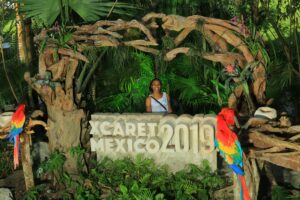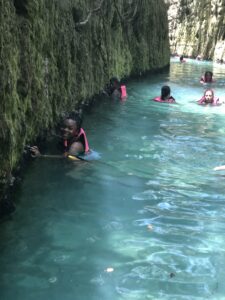 After coming back to rest up, later that night we went to Xplor Fuego. The only nighttime park in Riviera Maya. here we were led through jungle caves and trails on ATV's and zip lined on the highest zip lines in Riviera Maya. We got here pretty late so we missed out on the BBQ rib buffet, but we were able to relax by a campfire enjoying s'mores (provided also).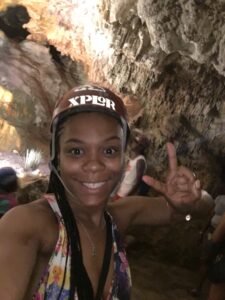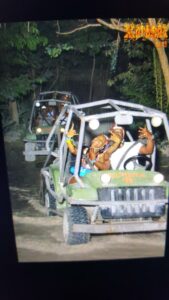 Day 3
started a little late and we had lunch at #4 Las Playas an a la carte restaurant overlooking the beach area of the resort. I'd suggest the fish tacos. After lunch we took the shuttle to Xsenses. A half day park that challenges your senses and nothing is what it really seems.  Walk through "The Town". It completely defies the laws of physics! Be sure to bring your swimsuits and water shoes. Unfortunately we forgot and it was so hot that day we didn't see most attractions.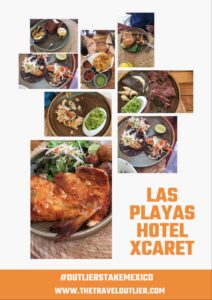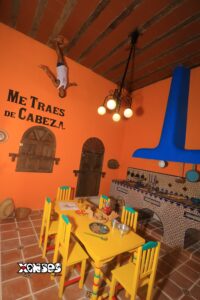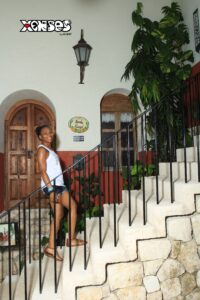 We had dinner reservations for a dinner show recreating Mexican culture in the 1950's at what would have been restaurant #5 Teatro Del Rio, but we didn't make it. This is one you have to make reservations for. With some resorts it can be hassle, but here no problem. Most restaurants only required you to make dinner reservations. Since we didn't make our dinner show we decided to go downtown Mexico, Playa Del Carmen, to see what it had to offer. The hotel even arranged a cab who stayed with us the entire night while in the city. Round-trip was $60. The hotel warned us about vendors who'll see your bracelets from the hotel, and pretend to have been your waiter, only to trick you into buying things. DON'T BELIEVE THEM. He was right each vendor we came across tried to run the "I was your waiter" line but they didn't know we had already been put up on game lol.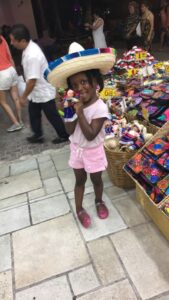 Side note…Outside the resort will always be the best place to buy souvenirs (just remember Head on the swivel). For example my husband caught a bad case of swimmer's ear. The medicine I purchased on the resort was $10, that same small bottle was $4… So yea ..
Day 4 Last day
we celebrated Zoe's Birthday and decided to take the Xichen Tour. An all inclusive tour that takes you on several different stops: Chichen Itza (a new 7 wonder of the world), lunch at La Casona in the historic city of Valladolid, and ending it at the Mayan Cenote Zaci. The bus rides takes about 2.5 to 3 hours, so be prepared for an early morning. Don't worry though the ride is extremely comfortable. Since this is one of the parks that does require a reservation be sure to make them. If not each party in your group will be charged $20, simply because your space is reserved. Although it was a hot day, they provided umbrellas and plenty of drinks and water to keep everyone hydrated.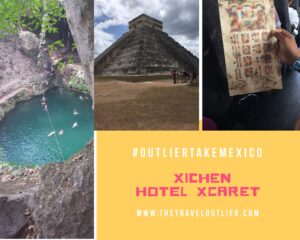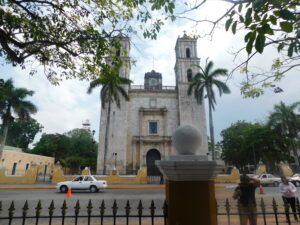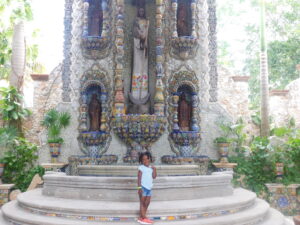 After returning we were beat. So we grabbed lunch from Mercado de la Merced again. Later for dinner we had dinner at restaurant #6 La Cantina Los Faroles, serving Mexican cuisine including meats cooked to order in a traditional cantina environment. Since this was our last night and we had an early flight, after dinner we decided to call it a night.
Things we missed out on:
Parks and Tours 
Bio:  A vegan and vegetarian option serving fresh and healthy food seasoned with super-foods and Mexican spices.
Las Cuevas: A unique culinary delight explores Mexican specialties, blending with international trends, in a gallery of caves carved out of the peninsula rock. (Dinner Reservations required)
Fuego: Intimate restaurant to enjoy a long after-dinner. Exciting gastronomy inspired by Mediterranean cuisine with a touch of Mexican-ness, (exclusive for casa fuego guests/ Adult only)
Xin-Gao: Serves Asian cuisine cooked on a teppanyaki grill with a sushi and Mixology Bar to enjoy (dinner reservations required)
Xpiral: Offers a variety of Mexican dishes with views of the Caribbean sea

HA' *

: An intimate dining experience with a world renowned chef . This is the only restaurant no included.
Cost of the entire trip: 
2 adults with 2 children (10 & 4) 5 days / 4 nights
Delta roundtrip flights from ATL to CUN
Hotel Xcaret All Fun Inclusive Program
$4474.00
With a resort so grand, it's impossible to do and see everything but we really tried. This is probably the most we've ever spent on a vacation, and with it's All Fun Inclusive program it was worth every penny. I've never been anywhere like it. We're already planning a return for next year to do some of the things we missed out on. You should definitely join us!!!