When your cousin calls you to catch up and casually mentions she'll be going to Florida for her birthday to visit more family … and only paid $157 for her round-trip flight… You have to book immediately!!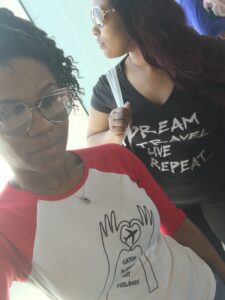 Yep that's how my recent trip to Florida went down… Although my ticket was a little more. It was then I was able to come up with the premise of this trip. I was looking for budget with Big Frills! Contrary to popular belief it is possible.
Here's how I managed:
Flight
I am a firm believer that when you see these prices, you have to be prepared to jump on them. Waiting a day later will cost you, literally. I purchased my round-trip non stop flight with Allegiant Airlines from GSP to FLL  for a total of 206.50. That included my "picked" window seat (I like to get a picture before I land) and my $40 ($20 each way) carry-on. Since this is a no frills airline you'll have to pay for amenities. It's best to do this at the time of booking because waiting later, even at check in will cost you more money. Check out how to fly Allegiant here.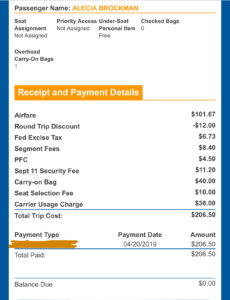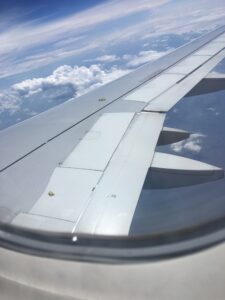 Accommodations
Since we would be flying into Ft. Lauderdale, we decided to stay there also. We saved a lot of money doing this and because it was 3 of us for a 4 day/3 night stay that was $152 per person. Traveling in groups will always save you money. Just make sure you like your travel buddies. Luckily for me I was traveling with family, because the first night we all had to sleep together. Yep! Again we're family so we're used to it, and it was all about budget remember. Actually the house we booked through AirBnb was booked the 1st night because we waited too long. Again, you have to be quick with these things. Also adding it was a mansion annnddd the owners (wife) is a celebrity stylist and designer. I even got to play creative director for my cousin's photo-shoot for her own clothing brand Simply Sacoyia while we were there. We took full advantage of our one room mansion lol.  For the remainder of the trip however we stayed in a nice size apartment that fit the 3 of us a much better (2 bd/ 2ba).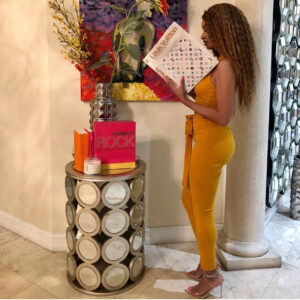 Bahamas for a Day
With the money we saved renting the room for one night, we put that towards dinner. As you can see we have no problems entertaining ourselves lol. We had an early morning anyway and had to be at the port for our day trip to Freeport, Bahamas. We bought our tickets from Groupon for $107 ( $25 entry fee included) and rode the Balearia Caribbean Fast Ferry. It was much better than I expected.  The ride was very comfortable and they offered food and snacks. The seats even have charging ports. This is a big deal for me, as I am that person who always need to charge their phone lol.  If you are booking, PLEASE PRINT YOUR CONFIRMATION. The systems going through security are a little outdated so don't expect to scan anything with your phone or you will be waiting in line! We thought we would be late checking in.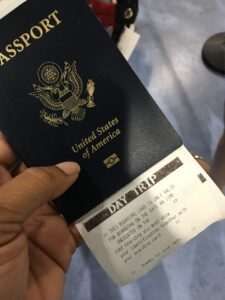 While waiting in line we were able to secure a driver, Patrico, for the 5 hour day trip ($130). Always remember, the driver is your connection to the local community. He stayed with us the entire time, made sure we were good, and for 3 girls traveling outside of the country that's pretty awesome in my eyes. We avoided all of the tourist traps and instead stuck with all things local. Besides, that's where you find the best food anyway! In the words of Patrico "that other watered down stuff is costly" and you already know the point of our trip. He told me in order to be a driver he had to go to school to learn how to be a Bahama's host. You learn how to create and fulfill experiences and that he did!!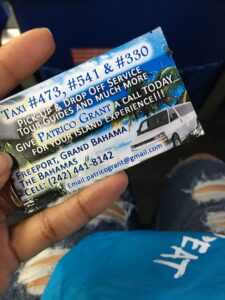 He took us through the 8 Mile Rock community stopping along the way for true Bahamian food and culture. The first stop was E&E Restaurant (I believe was the name) where we had their pepper steak and rice with macaroni and cheese ($10). Anything with rice, I'm hooked and it was as good as it looks!!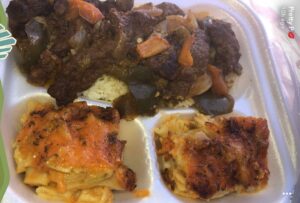 Our next stop brought us to Pat's Restaurant and Bar. Originally we were there to pick up more food, fried shrimp and fried conch ($12), which was amazing by the way. Once we heard the music from the door, we ended up staying for shots and dance lessons. Thanks Pinky lol!!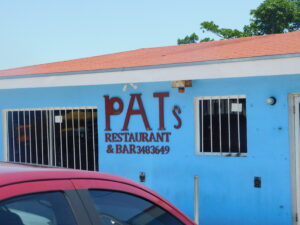 Next up on our tour, Patrico brought us to The Battery Hole, this swimming hole is amazing. So much natural beauty, it's a must see. We also got a chance to meet the "Shell Man" and his beautiful conch shells. I bought one from him to take home.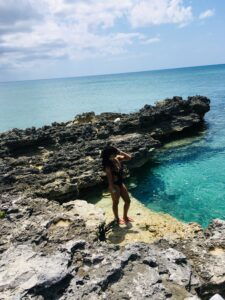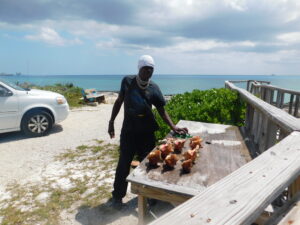 After our little mini photo shoot it was on to the next spot. Patrico's family was having a cookout to help raise funds for a family member due to illness on Taino Beach. Of course we joined the family's cookout to help show some support. We got there just in time and my cousin was able to grab a snow crab plate. Afterwards we hit the beach for more pictures.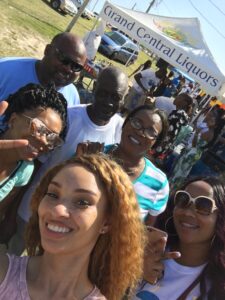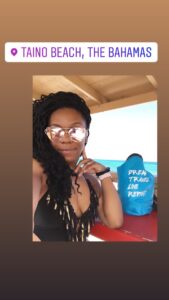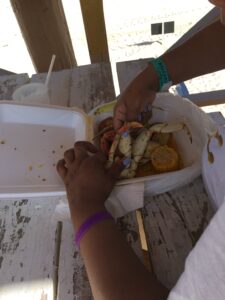 Right along Taino Beach you'll find Tony Macaroni… stop by and try a Gulli Wash (Gin sweetened condensed milk and coconut water). He also serves fresh food using local ingredients.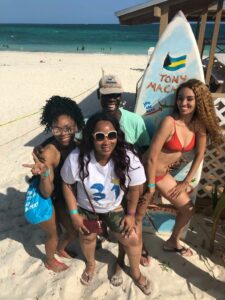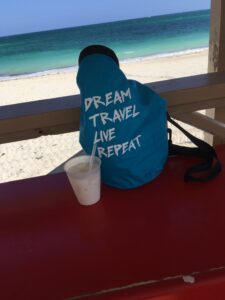 To end our apparent food tour, we stopped by Da Crab House for some crack chicken and fries ($10). Another good option. It's amazing the things you can do in 5 hours thanks again to Patrico!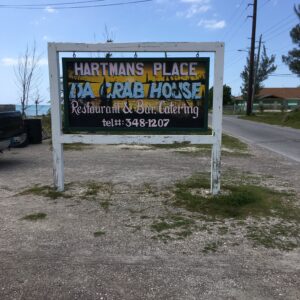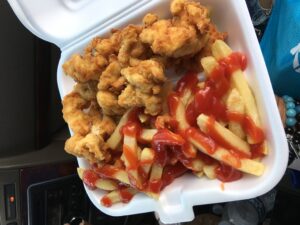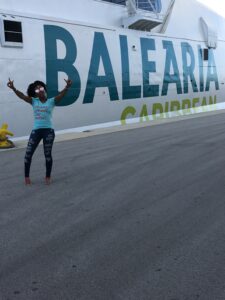 Wynwood and more
Any time I've been to Miami I seem to always head to Oceans Drive/ Collins to walk the strip. This time I was determined to see a different Miami. So the next day we headed to Wynwood. After paying $10 for parking for 3 hours, our first stop was for food at the Wynwood Yard. This entrepreneurial hub is home to food trucks of everything ranging from cuban food, to burgers, to Pountines. We went with The Food Dude  serving authentic Caribbean food and settled for a shareable with jerk chicken and shrimp and 2 sides. $22 which was enough food for the 3 of us.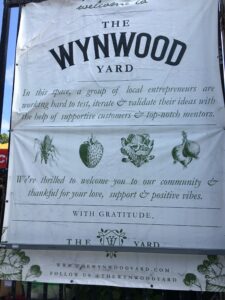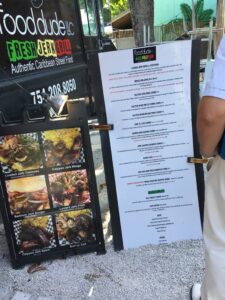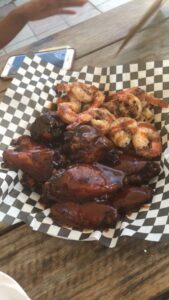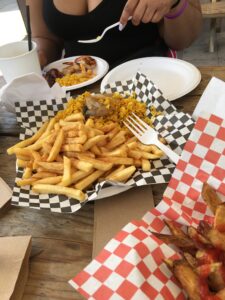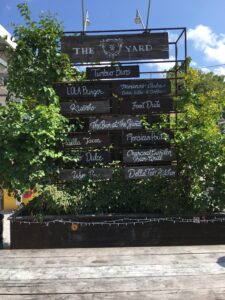 After eating we headed to Wynwood Walls an outdoor destination that features huge murals of street art. There's literally art, shops, and restaurants everywhere. Street art has become my new thing to look for, so I immediately fell in love. While inside we grabbed an icee from ParadICE for $6. I had the Tropical Passion, but I'd suggest the Beat Miami Heat. Ask to try the flavors all are delicious. A few blocks from Wynwood Walls, you'll find Bubble City in the heart of Wynwood. This unique space is home to pop up shops housed in bubbles. It's free to enter and while there you're able to grab a drink and hit the dance floor.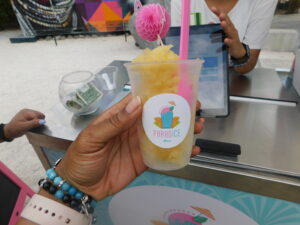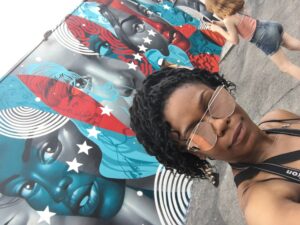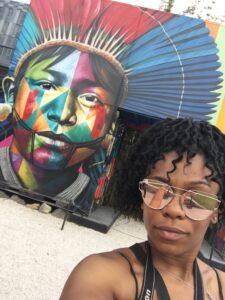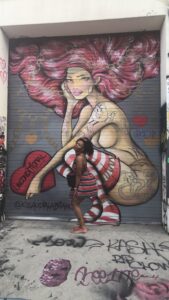 Unfortunately, we couldn't stick around because we had tickets ($25) to a the B.Fly Beauty Exquisite Fashion Show. This was my first fashion show and it was fun. It's great to see so many entrepreneurs share the same space supporting each other and the fashion was even better. We had an early morning flight so afterwards we grabbed food at a diner a few blocks away and headed back to the house.
Thoughts to myself like…
As a wife and mom, who stills work full time with a business on the side, it's important for me to take time and let my hair down. With those roles, I also understand the value of stretching a dollar. When those two mix you're likely to have a good time. This trip was nothing far than amazing and I got to bond with family all for less than $700. That included flights, houses (2), a day trip to Bahamas, food, and things to do. Not too bad, but next time I feel I should restrain a little more.
As always
Dream. Travel. Live. Repeat…
The Travel Outlier