One of the best things about having my own website is the ability to say whatever it is I want. It's my safe haven.. it's my venting tool.. it's my therapy..  it's my business. However, I don't take that power for granted. I know that through my site I have a responsibility to hussle (intended to be spelled wrong) and motivate. It's through discipline that I keep going, but it's through faith that I know i'll be rewarded. I understand that if I am not putting my dreams to work they're just wishes.
Just like I wish this was a post about a fancy destination, or tips about where to go and what to do, but it's not!
You know I always say the Dream is the first step, but even then you have to face the reality. Too much hurt and pain will dim the light if you let it. Just recently we lost, in my opinion one of the greatest leaders of the black community, Nipsey Hussle! Being only a fan, I wasn't expecting the impact to be so hard. It's not like I had ever met him or anything nor did I get chance to see him in concert.
My coworker compared it to when Tupac was killed. She was able to describe that day, where she was, and what she was doing. I guess it'll be the same for me. We were at the movies watching Dumbo (ironic a little). It was instant sadness. So much so it still hurts as I write, and the pain is deep. It was sudden and violent, and that will always affect me. I felt he taught me so many lessons. Music has always spoke to me, but his music was my blueprint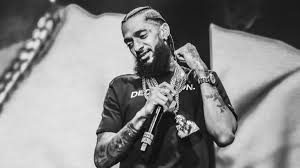 Hussle and Motivate…
It was through him I realized, The Travel Outlier was my own special business ecosystem. I had somehow created an economic community where I now produce goods and services that's of value for those same Outliers in the system. A method he spoke on. It's my take on owning the supply chain from production to consumption.  Through our motto Dream. Travel. Live. Repeat… I am able to test different theories, test different business models, simply because I have control over my platform, giving me the option to create leverage. Now that I have leverage, I'm able to curate an experience, a specific type of lifestyle: through my blogs, the travel agency, and merchandise. It's amazing what you can learn from a Crip from Crenshaw through music…
Hustle the Hova way / That's why they follow me, huh / They think I know the way / Cause I took control of things, ballin' the solo way / And if you counter my trend, I make you my protege'
He taught me that if I am going to be a leader and the boss, I must be willing to do EVERY JOB! It's hard as sh*t!!. Trust me I know. Within the last year I've become a CEO, a travel agent, content developer, editor, marketing director, brand ambassador, event planner the list goes on… I mean I am the company and the company is me!! I don't do it because I want to control everything, I do it to fill in the time while I'm in the trenches. It's the true definition of "self-made"
Ain't really trip on the credit, I just payed paid all of my dues / I just respected the game, now my name all in the news
Steps that the outside never see are the same ones most people hate to climb, but it's through that process and that grind that makes us who we are. You learn patience. There's a time for everything and a lesson for each journey. He told me to stick with the script, be strong, and give my heart to it. Be the Outlier i'm supposed to be. "You learn all the secrets to the game on your way up." 
Passing through stages in life / through the ups and downs like it's all just another test / Live by the rules like a f***in ref 
His platform demanded a call to action I didn't ignore. He hooked me with the lyrics, but by the time he finished the story, I wanted to know the business. It was strategic and purposeful. He was the champion behind ownership. "The new mindset is we don't want advances, we want equity. We don't want 1-off endorsements."
Prior to The Travel Outlier, I wasn't an owner of anything and If I was, it didn't increase my assets so It was nothing. According to him, you're not a hustler if you don't own anything. All Money In he would rap, it was about investing your profits. I think we can all agree "scared money don't make money." Start small and then add onto what you have… soon you'll be able to multiply it !!
F*** living basic, I'm taking risks / F*** what they saying, i'm saying this / Don't waste your time if it don't make you rich / it don't mean nothing so f***  em, lets make a grip / Double up, triple up, make assist
Thoughts to myself like…
It feels like I lost an uncle, brother,.. a friend. It wasn't until I sat down to write this when I realized why. You see every morning as I got ready for work I'd blast my Nipsey Compilation. In my mind we had created a friendship, his music was advice, his book suggestions were guides, and his community service was inspiration. I realize it's natural to feel like this and based on my timelines on social media, I'm not the only one who felt that deep sadness. Energy can not be destroyed, only transferred and his transcended to the masses. I'll never understand why our great leaders leave the way they do. So instead of trying to figure it out, I'll take the knowledge they left and form a plan. My own call to action. Just maybe I'll inspire someone to Hussle & Motivate it's what Nip would do …Self made No Excuses!
Thoughts and prayers to Nipsey Hussle's family and friends of near and far
The Marathon Continues…
#LLNIP
As Always,