Every Friday (well almost because I've been slack lately) on my Facebook page (The Travel Outlier), which you should definitely go like by the way (after you finish reading of course), I host International Friday's. I post quotes for random places around the world. It's my way of really showing people Travel isn't expensive. One of the cool things about being a Travel Agent is the access. I selfishly use it for my own desires lol and post quotes from my own bucket list. Recently, it featured a 5 day/4 night vacation package, with round-trip flights from Atlanta to Barbados, staying at the Hilton Barbados Resort for $2093.54 ($400 deposit). Luckily for me, I was able to link with another Outlier, and fellow Travel Agent willing to give me the details from a recent trip…
Travel'n With A Purpose – Barbados
Meet Dyneshia
It was my first time there this past December!! I immediately feel in love with the turquoise water, paradise beaches, and killer rum punch!
I stayed Dec 5th-9th (5 days). I stayed in a rental home because it was cheaper for the time frame. If I would have opted for an all inclusive resort, I wouldn't have gotten my monies worth. When I travel, I like to mingle with the locals, sight-see, and I'm a foodie. The all inclusive would have kept me bound to the resort. I would have lost out on interacting with the locals and understanding their culture. The people there, (Bajans) are very friendly, always asking if you need help or directions… and very welcoming of people from other countries. My aunt came along with me so she has a friend who was born and raised there. She now lives in Orangeburg, SC. She came over for school, SCSU. Her parents and siblings still lives in Barbados so they came over to the Airbnb and sat with us. Gave us tips on the nightlife and things to do as well.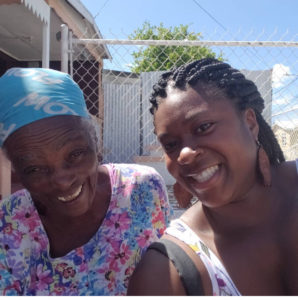 Barbados is known as "the birthplace of rum". So don't forget to check out Mount Gay Distillery or any of the other rum distilleries around. The signature drink all across Barbados is the rum punch!! I found my best dish there. I had the red snapper and the grilled marlin. As far as the food goes, Bajans eat quite a bit of local fish!! That's kind of their thing. Since they have to import almost everything there, most of them fish and sell to local markets.  Plantains and rice goes hand in hand with almost every dish.
Barbados is relatively flat compared to other islands, but that doesn't mean driving won't be a bit challenging. I recommend renting a car if you would like to tour the entire island. Hired cars can be easily recognized by the 'H' on their license plate. Remember that in Barbados they drive on the left side of the road and the vast majority of vehicles are right hand drive. It was scary driving on my "wrong side" of the road! You have to be cautious. They don't have many traffic lights either instead they use roundabouts. I got it (license) from AAA… no test or anything. I wasn't sure of the rental car process, so I got it just in case it was a mandatory requirement. To hire a private driver was like $40/hr, the rental car was $135 for 3 days.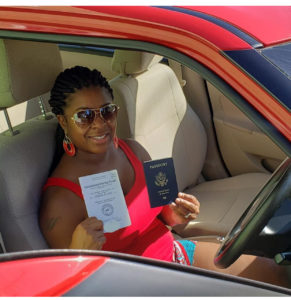 Now the attractions!! …
Born in Saint Michael, Barbados, and raised in Bridgetown you can find the home of Rihanna, located on Rihanna Dr.
Harrison Cave is another popular tourist location to add to your list. This crystallized limestone cave is made of flowing-streams, deep pools of crystal clear water, and towering columns. Chalky Mount is the highest point of Barbados..(use caution when driving). Green monkeys aren't rare, you'll see them running around in the northern parts of the island. They are pretty cool, and even a little cute. The Crane Beach is one to check out after a long day. If you're looking for a more upscale environment near a beach check out Nikki's Beach.
Animal Flower Cave was one of the tourist attractions that I took advantage of… Right on the northernmost tip of Barbados, which is called, St. Lucy. This is the rugged Barbados. There's nothing more relaxing than listening to the waves crash against rocks. Taking photos of the jagged rocks, and the multiple shades of the blue water!! Don't forget to grab a bite to eat at the onsite restaurant while taking in the breathtaking views.
If I could redo anything I would have to say.. make my stay a little longer and I would bring or invite others to join. I know I have a travel company, so I'm trying to live up to the name, Travel'n with a Purpose!! When we travel, we travel with a Purpose!! My motto is, One destination,  once a year, one new traveler!! I'm trying to change my community, even if it's only one trip and one new traveler!! I still feel like I've accomplished my mission.
– Dyneshia Pauling-Colter of Travel'n With a Purpose
Travel'n With A Purpose was established 2013. It started as a hobby with her planning their group's annual trips. Until one day it clicked, that she should benefit from the late night research (hours I might add from personal experience) of booking trips, and become her own travel agent. As years and different trips went by, more outside people became interested.She opened up the travel group to friends and family. Like anything new, she was hesitant at first and didn't think she wanted to be exposed until she stumbled across her niche… Group Travel!
Thoughts to myself like…
As The Travel Outlier, I understand the importance of separating from the pack to truly find that purpose. Since I've been on that journey, I travel with that purpose, taking it everywhere I go. The best thing about that is, although I'm separated, occasionally I bump into other Travel Outliers. So meeting someone who's made it a business was bound to happen. So was it a coincidence when we found out we worked for the same host company, live in the same state, and are both Virgos??? Nah… probably not!!
As always,