In honor of my 31st Anniversary (aka Birthday) my husband and I decided to dust the passports off and hit the international seas. We had our eyes set on Europe. Well.. I did really, since I'm the planner and he just follows along with my idea lol.  I decided to call it….
Operation 31 Euro
( click here for the backstory)
For the 1st half of the mission we decided to see Amsterdam. Now before we talk coffee shops, prostitution, the Red Light District and more… I feel I should go over some of the IMPORTANT details when planning a trip to Amsterdam or any international trip for that matter.
1. What is required? 
When traveling to Amsterdam your passport aka ticket to the world must have at least a 6 month's validity before your date of departure. Basically… make sure it doesn't expire any time before your trip.
2. Know your money 
Amsterdam's currency is the Euro. Most places will accept your debit/ credit card but there will be an extra charge with your bank every time  you swipe your card, so that can get pricey. It's probably best to exchange your money with your bank or credit union instead of the airport. They're likely to provide the best exchange rates and charge the lowest fees. Do this before your departure. Our bank takes about 5 business days to process, so we had to exchange at the airport.
Currently 1 USD = .86 Euro
So therefore if you're exchanging $500 that's about 430.24 Euros, minus any fees it may cost.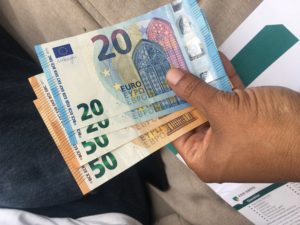 3. Know the area
Research the area or just keep reading. Most likely you'll fly into Amsterdam's main airport, Schiphol, If you're not driving, understand public transportation. It's much cheaper. Like most of Europe, getting around Amsterdam is pretty easy. The Schipol Airport Railway Station is located underneath the airport's plaza, so getting to your destination shouldn't be to much of a problem. Just don't forget to snap a picture at the IAMSTERDAM sign. My best friend says "If you know how to read, you can't get lost" lol. It's kind of true though. I would suggest Rome2Rio It gives you directions to anywhere by plane, train, bus, ferry and car; taking it a step further even giving you an estimate of cost. If you don't have any plans of renting a car, don't waste your money on Uber. See the city like a local and hop on the train. ** In light of recent events I feels I should also say "Keep your head on the swivel"** Or rent a bike. Since cycling is a way of life for Amsterdam, there are many bike paths. It rained both days while we were there, so we settled for the train.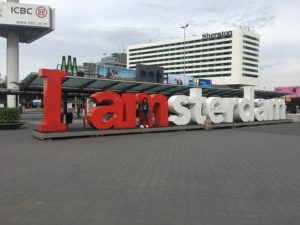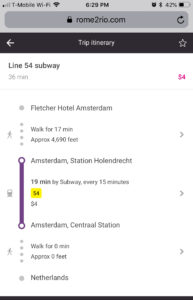 4. Where are you staying?
A good rule of thumb: the closer you are to the city's center, in this case Dam Square, the more your hotel will cost. Since we were only in Amsterdam for 2 days,  I didn't want to go overboard. We decided to stay at the The Fletcher Hotel ($300 total).  A stunning 4- Star hotel that combines both luxury and budget, giving you amazing views of Amsterdam from their SKY lounge and restaurant. The glass shower in the middle of the room is quite sexy also lol.  The hotel offers a shuttle service to the nearest train station, Amsterdam Holendrecht.  By train, it's about 45 mins away from the airport and about 35 mins away from Amsterdam Centraal Station (Grand station at the heart of the city's center)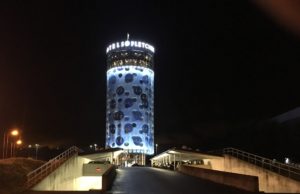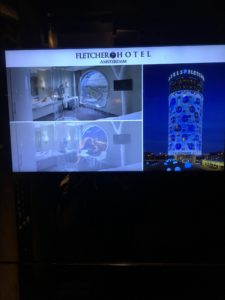 5. Power Outlets
Check the need for a power plug/ adapter. Amsterdam's power outlets are different from the US. Some places may offer USB ports, but it's not a guarantee.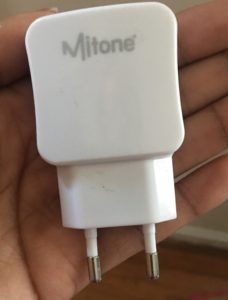 Now that we have gotten the important details out the way:
Let's talk Sex and "soft" Drugs ……
Amsterdam is the 8th most visited country in Europe with over 18 million visitors each year. Known for its famous Red Light District and "Coffee Shops", this is the stop for most 1st time visitors. Since the Dutch has legalized both prostitution and "soft" drugs aka weed, there's no wonder why.  It's something about freedom that makes people gravitate towards it. So we did what any 1st time visitor would do.. We headed for the Red Light District and Coffee Shops, with a couple of pit stops in between.
Things to See in the City Center
Red Light District
is the heart of Amsterdam, walking distance from both the Grand Central Station and Dam Square. It's known to the locals as "De Wallen"  which refers to "sex and prostitution" in Holland. If you're confused about the where you are the street signs are a good indicator. Some of the main streets in the Red Light District ends with -Wal (plural for Wallen) For example Oudezijds Achterburgwal. If that doesn't help, look for the buildings with florescent red lights and women in the windows. I'm not talking your average Molly the Maid either.(No Offense) these women are BAD! NO PICTURES though, it's not allowed. Paying for sex is one of the oldest professions to date and for a city as old as Amsterdam, there's no mistake why the 2 would go hand and hand. Here's where  you can find your sex shows, shops, and museums restaurants, and so much more.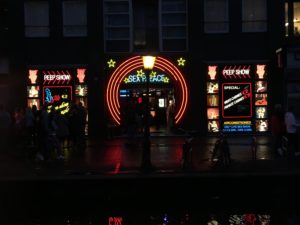 Coffee shops
Not to be confused with "cafe shops" where you actually drink coffee.  These shops allows the consumption of weed. Legalized in the 70's in an attempt to keep people from using "hard drugs", there's over 250 coffee shops in Amsterdam. Most of them are in the Red Light District, each with it's own atmosphere. With so many, I'm sure you will find one to fit your taste buds.
But please follow the rules:
Must be 18 or over to enter with passport or ID
You can not purchase more than 5 grams
You're only allowed to come twice a day to the SAME coffee shop
Hard drugs are forbidden
You cannot spoke in public. Only in the coffee shops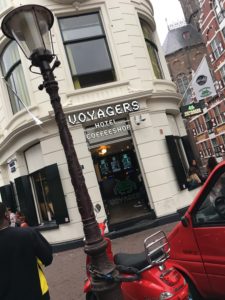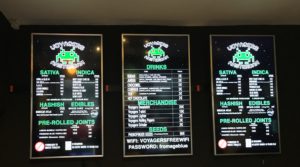 Amsterdam also hosts their annual Cannabis Cup, a weekend festival to celebrate the culture of weed. Normally held in November, this year the festival was in July.
Museums
Just like there's a coffee shop for every taste bud, the same can be said about the museums in Amsterdam. Another main attraction for tourists. Some of the most famous are the Anne Frank House, Rembrandt, Van Gough,  Rijksmuseum,  just to name a few. Since we only had 2 days, and our only interest was sex and "soft drugs", so we decided on the Sex Museum and Marihuana Hash and Hemp Museum
Sex Museum
Operating over 20 years, this museum brings artifacts from all over the world to explain human sexuality in a very interesting way. Here your able to explore the history of sex through the ages, Marilyn Monroe, the early stages of porn through very old photographs, Chinese porcelain sets with erotic scenes painted on them, plus so much more.  The museum is definitely worth a visit, for only 5 Euros, explore one of the most age-old topics and reason for existence.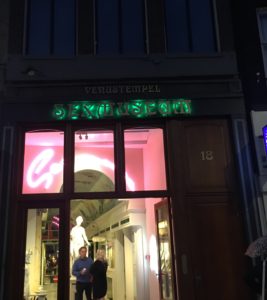 Hash, Marihuana, & Hemp Museum
One of the oldest and most important museums dedicated to cannabis. You'll explore 2 museums for the price of one (2 ppl = 17 Euros) through an audio tour. One dedicated to Hash/ Marijuana. Here you'll learn about the Rastafarian's way of life, with cannabis playing a significant role… How cannabis was a major ingredient for medicine in the 19th Century… and the history of recreational use.. plus so much more. Once your finish head down the street to the next site, dedicated to industrial hemp and the importance of the plant then and now. We enjoyed the We Are Mary Jane: Women of Cannabis exhibit, exploring the role of women in the world of cannabis.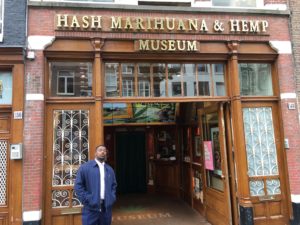 Restaurants
You can't visit Amsterdam without trying the famous "frites" or "patat", which are thick cut french fries. They're usually served with a dipping sauce in a paper cup. Like typical Americans we settled for ketchup, but you can try them with mayonnaise (Dutch favorite). Finding a vendor won't be a problem. They're lined throughout the streets.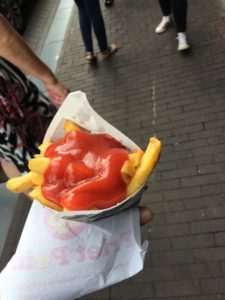 The crepes and waffles at Crepes and Waffles is another must try. They offer both sweet and savory treats baked right in front of you. Since I'm not a huge foodie, my preference is always pizza. Don't stop at the 3 Euro a slice pizza stand, you will be disappointed. Instead, I suggest the pizza at Restaurant Marco Polo.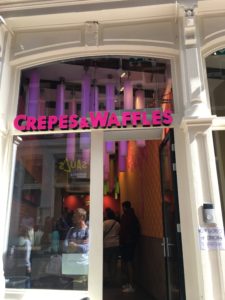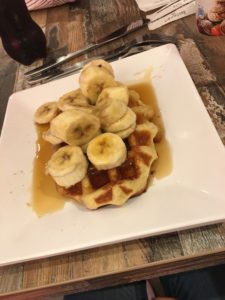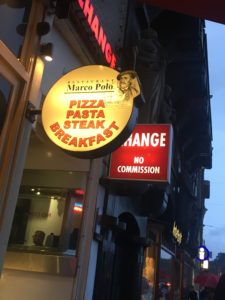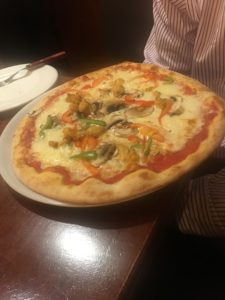 For desert, try a chocolate covered waffle at Ice 4 You. They offer many different pastries, I'm sure would satisfy your sweet tooth. Everywhere you turn, there's a restaurant to cater any taste and budget. Since the city center is so diverse, finding something to eat will not be a problem.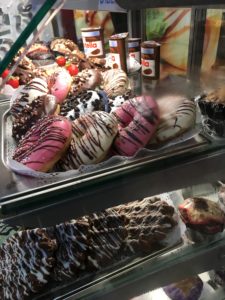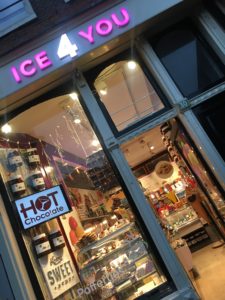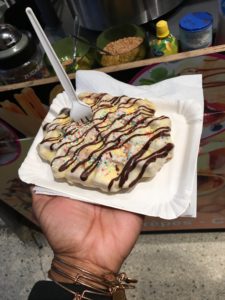 Canal Ride
Amsterdam's canal ring (165 canals) is recognized by the UNESCO world heritage site. Most lasting about an hour, it's a perfect way to really see the city, while also learning about some of Amsterdam's rich history. There's several types of cruises to choose from. So rather its a romantic candle lit canal cruise or a hop on hop off cruise, this should definitely make its way on the list of things to do while visiting.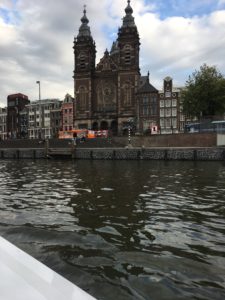 Thoughts to myself like….
Looking back on our trip, I can't believe I was nervous. We have been out of the country before, but there's something about being on an entirely different continent that made me weary. It wasn't until check in when we meet Sandra and Jimmy that my nerves started to go away. They greeted us, even sharing some of Amsterdam's must haves. Ultimately setting the tone for the next 2 days. There's more to the city than sex and "soft drugs", this old city offers culture, amazing architecture, a diverse mix of foods and so much more. This is what traveling is all about. Until next time Amsterdam….
As always