In a recent interview with Just' N Tyme Products, (click here) a brand tailored for children that encourages creativity through children's books and products, I was asked about some of our family tips for traveling with big families. Since summer is here and the children are out of school, for most families a trip to Walt Disney World is probably on the list.
The only problem is June, July, and August are considered to be Walt Disney World's peak season and not to mention very popular months to visit Florida since schools are usually out. Not only will your theme parks see an increase, but resorts and hotels are also likely to up their prices.
For this past Memorial weekend and Zoe's 3rd birthday, The Outliers decided to hit Orlando 12 deep. Although not in the summer months, this was still considered "Peak Season". So I decided to come up with my own personal list for big families traveling to see Mickey this summer, but not wanting to break the bank and still get the most out of their trip.
First things First: Resort or Vacation Home?
Resorts, in general tend to be pricier. Walt Disney World is no exception. Of course there are perks that are offered that a vacation home does not like: shuttle transportation, extra hours during park visits, etc which is a nice addition,  but sometimes the extra amenities are just NOT worth the additional price that comes along with it.
For us we went with a vacation home near Champion's Gate. It is about 20 minutes away (25 tops) from the Walt Disney World Theme Parks. We booked early this time and found a 5 bedroom / 4 bath house with an enclosed pool for right at $600 (5/25 – 5/29). For 6 adults and 6 children (twin beds in the kids rooms), this fit us all comfortably. This way we were all able to still be together without having to purchase multiple rooms.
Vacation homes can be an extra saver when it comes to money spent on food also. We made sure to stock up on food. Cooking breakfast also We even had a big cook-out on Memorial Day (grill supplied by the rental) and the kids were able to enjoy the pool


Tickets
For children under 2, park admission is FREE. Ages 3-9 will pay a child ticket and children 10+ will pay adult prices. Luckily for Zoe, she was turning 3 AFTER our park visit lol. We decided to visit only 1 theme park, Animal Kingdom. I was excited about the World of Avatar. If you have plans on visiting, I would suggest coming back at night, as park tickets allows for re-entry.
The more days you visit, the more savings you could get. You save $20 when you purchase 3-day or longer tickets online. 1 day tickets are priced by regular, value, and peak seasons ticket type. Pay attention to which ticket you purchase because regular and value tickets can only be used on that specific date. While peak season tickets can be used on any day.
We made this mistake, but we were able to contact Walt Disney customer service to make the change. If you're looking to go to Magic Kingdom, expect to pay more money for your ticket. The price is a little more than Disney's Animal Kingdom, Epcot, or Hollywood Studios.
If you're a Sam's Club member, you can purchase discounted Disney Gift cards online. These gifts cards can also be used to purchase theme park tickets.
My Disney Experience
After you purchase your tickets, be sure to register with the My Disney Experience to get the most of your trip. Through the website or App, you're able to link itineraries. Since we were a group of 12 this was great for us. Another feature is the FastPass+, included in the price of the ticket. This is my favorite. No longer having to wait in the standby line, you're able to reserve your time for 3 experiences based on availability 30 DAYS prior to your arrival, and 60 DAYS if you're staying at one of their resorts. SO PLAN EARLY. Since our itineraries were already linked we could ALL enjoy the rides together instead of leaving some behind. After the 3rd experience, just use the app to schedule another and repeat. Availability fills up fast, so again PLAN EARLY!!!!!! We were able to beat the crowds by reserving our time for the Lion King Show, which the kids really enjoyed by the way.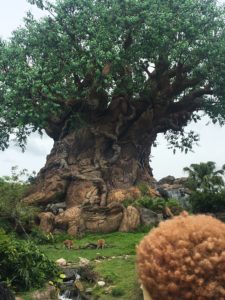 Extra Pocket money
You can skip the dinning plan, Walt Disney World allows for you to bring food and drinks inside of all of their theme parks. Although the Bar-B-Que chicken that we all had was pretty decent, I believe I would have settled on sandwiches and snacks to save a little money if I would have known this. There are water fountains throughout the parks also, so bring your PLASTIC water bottles. Or you can stop at any of the service restaurants to fill up. Soft sided coolers are allowed in also. However there is a size requirement. For more things that are NOT allowed click here.
At any given day in Florida " the bottom will fall out" ( that's just southern for heavy rain by the way lol) so I would suggest purchasing Ponchos from a local Walmart, instead of at the parks. It's better to get them for about $5 tops and not need them versus spending an arm in leg inside the parks. Also moms, if you have plans on purchasing costumes for the little princesses, bring one instead of waiting to buy at the park. Another big saver!!
***Disclaimer***
Following these steps will probably not save you millions of dollars. However, it has been proven to save money lol. So rather its $5 or $100 for large families a SAVE IS A SAVE… Ask anyone….
Thoughts to myself like….
There's nothing like bringing money home that has been set aside for vacation lol. The family and I have visited Walt Disney World many times, but this was probably the first time we have been and not gone over budget. You would be surprised at how just minor adjustments can go a long way. I'm learning travel is what you make it, and through careful planning and research it's possible without having to break the bank.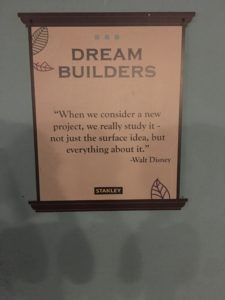 Want to share more money savers for seeing Walt Disney World? What are some of your family's money saving tips? SHARE THEM… Leave a comment!!!
As Always,