I was first introduced to Carnival while seeing Rio.
Ok… no I haven't been to Brazil; however, it was added to my bucket list after watching the movie with the kids lol.
In many of the Caribbean Islands, Carnival is celebrated throughout the year. Each island adds their own unique spin, while still holding on to their roots in African and Catholicism culture. People from everywhere come dressed in masquerade to celebrate diversity, while dancing to the "Soul of Calypso", or SOCA music.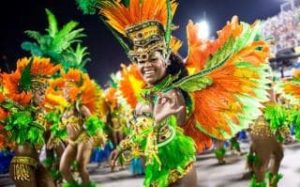 Fortunately, for us here in the States, June kicks off The National Caribbean- American Heritage Month. It was declared in 2006, to recognize the significance of the Caribbean people and their descendants to the American culture.
So imagine my surprise when I found out that right in my back yard, well not exactly my backyard, but only a little over an hour away, in Downtown Columbia, SC, they were paying tribute to the Caribbean Heritage Month with the
This year's theme, "Music, Food, and Culture" will give you 4 days of cultural experiences you won't need a passport for.
A Festival Driven by the "MUSIC" that represents the vivacious heart beat of the people

The "FOOD" characterizes our diverse medley of race and color, seasoned with the spirited foundation of multiple "CULTURES".

–South Carolina Carnival
The Travel Outlier will be in "them streets" on Saturday kicking off the Culture Parade in costume thanks to Instagram @yuneeek. If you're looking to immerse yourself in true Carnival fashion I would suggest the follow along with @hibiscusent. This is a FREE EVENT and families are welcomed. I would love to see all my Outliers, this should be FUN!!
Thoughts to myself:
Sometimes the greatest discoveries are right here in our backyard, thanks to my friend who brought this event to my attention, I was reminded of that fact. I'm always so eager to leave my state, that I forget to just look around and take in what it has to offer. Traveling is not just about the pretty destinations and that perfect Instagram shot, although it's a bonus, travel is about the experiences along the way, meeting new people, and learning about different cultures.
As Always,