One of my favorite movies as a child is Home Alone. My favorite scene was when the family was running through the airport trying to catch their flight. I can remember thinking, that looks so fun and exciting. I didn't take into account the thoughts that were running through the McAllister's' mind as they were racing to their gate.
Probably thinking "Oh Sh*t we're about to lose all this money!" (You know they paid for the family's trip lol)
And after experiencing this exact feeling… I no longer find it fun nor exciting.
The Backstory
A couple of months ago, I decided to purchase a ticket to a travel workshop in Dallas. I was super excited, because this was my 1st official workshop. This was my opportunity to network, learn some great information, and experience Dallas, TX. I had been before for work, so that didn't really count, and this was my husband's 1st time.
I found a great deal on Travelocity for the NYLO Irving/ Las Colinas. The total for the weekend was $198. (15% off coupon code incl.) I absolutely loved the layout, very "modern swanky" and it was center to about everything.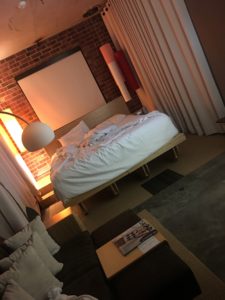 Tip: Just like anything you purchase online, coupon codes can really save you some cash. Always search for a code before booking.
I waited later than usual to purchase our flights and the price went up. If you see a good price, get it! That's probably the best you're going to see.
To save a few extra dollars, I went with 2 one way (nonstop) tickets, flying into Dallas-Fort Worth (DFW) and the other leaving from Dallas Love Field (DAL). The airports are about 20-25 minutes away from each other but the prices and flight times are different. Just an FYI when searching for plane tickets.
Spirit – 2 tickets (non stop) $228
Delta- 2 (non stop) $267
Take- Off Day
Our flight time was 6:54pm from Atlanta. We planned on leaving Greenville around 2pm, because we are familiar with Atlanta's traffic.
Butttt…. I'm sure you know us well enough by now to know that leaving on time, is not really our strongest suit. So after picking the kids up from school and getting everyone settled, we were finally on the road at 3:30pm. I had already checked into the flight and paid for our bags, so the only thing we could do is hope for the best.
Tip:
Always check in 24 hours before flight. This will save you BIG TIME in the future.
It wasn't until we got to TSA check in, when we realized we would miss our flight. The line was INSANE. When you have to be somewhere at a specific time, why does it seem like everyone else is scheduled for the same time slot??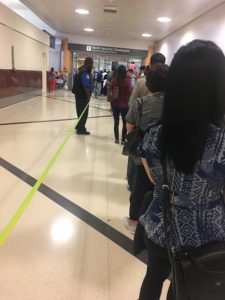 Tip:
TSA Pre Check allows for you to speed through security. With this option you don't have to remove your shoes, coats, etc and it takes less than 5 minutes. You must feel out an application and schedule an appointment, but it will save you in the long run. Click here for more details. My appointment is already scheduled.
Because we were already checked in and our bags were paid for, the good news, we could automatically be put on the next flight out without paying .The bad news, the next flight did not leave out until the next day. Bummer!
Atlanta
So we were stuck in Atlanta for the night. Luckily, I purchased the insurance for our hotel stay in Dallas ($9) that covered this exact instance. So we were able to get our money back! That of course went to our night stay in Atlanta. Crazy part is, I rarely purchase insurance. The one time I did, I end up needing it. Needless to say, I'll probably be buying this in the future.
Tip
Hotel Tonight is an app that offer big savings on last minute hotel stays. I definitely recommend downloading this if you ever find yourself in a bind.
Dinner was nice. Atlanta is pretty much our second home when we are just wanting to get away from our day to day. So it was my surprise when we stumbled on Rodney's Jamaican Soul Food and Grill. Oh man… the food was on point and the vibes were right, with a nice music set up. Anytime you play 90's R&B, I'm hooked. I had the Jerk Chicken and Waffles with a side of jerk shrimp. J had the jerk salmon and collards.  During dinner, I decided to check my email and noticed my workshop was CANCELED and had been rescheduled. At this point, there really wasn't a reason to be upset. I had my wine and was having a good time. So, we were was good!!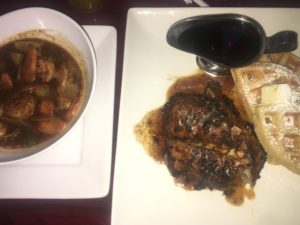 Apparently, there was a concert in the city that night. The Brockman's learned their lesson, no party for us! Domestic Flights (Within the US) requires you to be at the airport 2 hours before your flight, so that's where we were.
15 hours in Dallas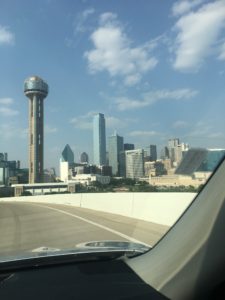 We arrived in Dallas around 2 o'clock (Sat). Our flight for the next day was 7am, only 15 hours to enjoy Dallas. I was expecting sunshine, but instead I was smacked in the face with wind blowing 30 mph. After checking in, we decided to grab something to eat downtown. Unfortunately, it was too cold to do any walking, so we settled on the 1st restaurant we saw, Dallas Chop House. The steak was cooked to perfection! Everything is a la carte, so just be prepared.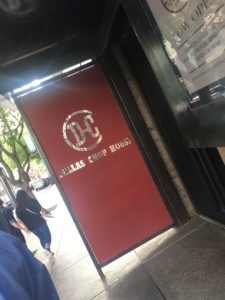 After dinner, we decided to bar hop. Our first stop was the Playground Neighborhood Bar. If bars are your thing, I recommend finding local bars in the area, the drinks you will find to be more reasonable. The music killed our vibe, so after a couple of hours, we were on to the next stop, Rocco's Uptown Pizza and Pasta. Y'all know I'm always down for pizza. During the weekends they're open until 3am. The music was much better and the manager was very cool. So after an hour or 2 we figured we should leave. After all we now only had 5 hours until take-off now.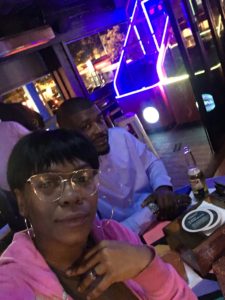 The Rush is On Again
If we would have made another stop the night before, we would have found ourselves in the same position as before. After dropping the rental car off and taking the shuttle back to the airport, we were in the McAllister's shoes again, running down the halls to our terminal. We could hear them calling our names over the intercom with less than 7 minutes to board. This time we beat the clock!!
Thoughts to myself like:
What a weekend!! A few years ago, I would have called this trip a bust. Everything that could have went right, went left. Of course it would be if I took that approach. Instead I chose to roll with the punches, and despite the missed flight, the canceled workshop,  and not even a full day to enjoy the city, Dallas taught me a lot. After all it could have been worse, we could have been out of money. Everything happens for a reason. Dallas sure did!!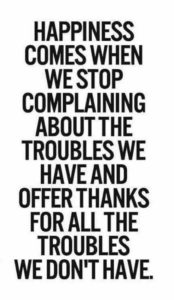 As Always