To wrap up our Valentine's Weekend and another excuse for me to take a vacation, the Outliers decided to take a road trip to…
Charleston aka "The Chuck"
In Preparation:
I absolutely hate packing, but I hate doing laundry even more. The two go hand in hand when your vacationing, at least for my house it does. I almost always forget something and that's mainly due to rushing.
We were scheduled to leave before 12 p.m. So after hearing…"Mommy have you seen my…?, Ma where is my…?, and "Pooh (nickname) do you remember seeing…?"
We were ready to hit the highway at… 3 p.m… finally!
My mom came along with us this time for added reinforcement. I'm only half way joking. I told you, we're super close, she'll always come along for the ride.
Day 1
The Drive
Anytime I visit Charleston, I always get a feeling of nostalgia. My college days makes me appreciate the city even more.
Since we're family I feel I can talk you guys…
Part of the reason I didn't graduate college, was because every weekend I came home to Greenville, SC from Charleston. I can travel 385 to 26 in my sleep. Anyway, you can understand how this makes me feel when I'm on the road.
From Greenville to Charleston, it took about 3 hours. J was driving this time.
If you've ever traveled with a toddler, you know how imperative it is to stock up on snacks, entertainment, etc. It worked for a while, but sleep kicked in, and Zoe had her little episode.  Once she settled down and actually went to sleep the ride was much more peaceful (I'm halfway joking).
Tip
I recently downloaded Waze App. I love it! Similar to google maps.
This app will navigate to the cheapest gas stations in the area and even alerting you when the police is near by. (especially great for those people with a led foot) 
Jacari entertained us with his odd and unusual "Did you know facts" that we never ask for. They're usually far off in left field, this time it was…
Did you know
When eating at a fast food restaurant there is a 12% chance of finding pubic hair in your food!?
Disclaimer: Now I'm not sure how accurate this disgusting fact is but I'm not willing to bet against him.
For this trip… instead of a hotel we decided on Airbnb. I'm really starting to enjoy the whole "Home away from home" vibe.
We found a great 2 bedroom/ 2 Bath townhouse in Mt. Pleasant, which is about 15 mins from downtown. It was in the perfect corner spot and was more than enough room for 6 people.
Deal:
If your're looking for a vacation home and new to Airbnb.
Click here for $40 in travel credits when you sign up!!!!
Wakanda FOREVER!
After getting settled in, we decided to grab something to eat. I'm not a huge seafood fan, but I was out voted. Our Airbnb host suggested going to Shem Creek, which was a great idea. Here you'll find a lot of different seafood restaurants.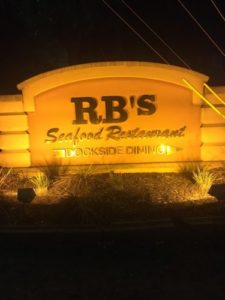 We ate at RB's Seafood Restaurant. I'm simple, so I went with the fried shrimp and baked potato. We ate dockside. There is something so calming about eating by the water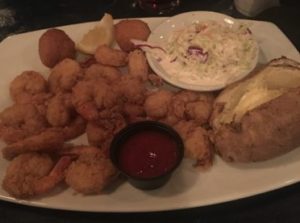 Click here for the full menu!!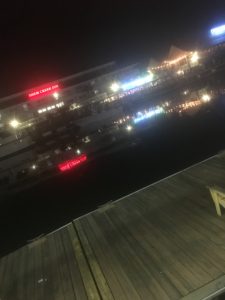 Since this was the opening weekend for Black Panther, The Outliers had to check it out. So after we finished eating, we headed over to the Cinebarre Mt. Pleasant Theater.
They offer a full service bar/restaurant. There's even a service button inside of the theater, so you don't have to worry about missing the movie.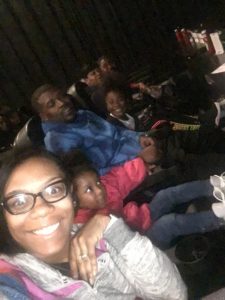 THE MOVIE WAS AMAZING!!!! Please go see it for yourself before forming any opinions about it!!
We all walked away with more pride in ourselves then when we walked in!
WAKANDA FOREVER!!!!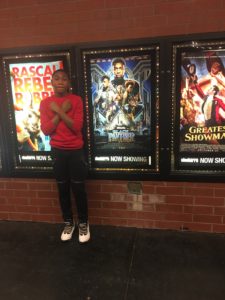 After the movie, we called it a night. Day 1 in Charleston was complete!!
Day 2
Downtown
So Day 2 started a little slow. We headed to get brunch at another suggested restaurant Charleston's Cafe.
Now, when we pulled up, I was a little skeptical, and when we walked in, we all felt a little out of place. We were definitely Outliers.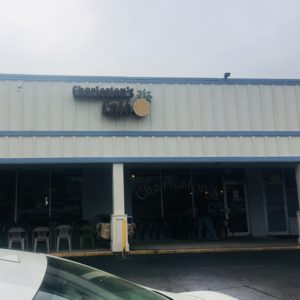 But just like with anything… Looks can be deceiving and I am glad we stayed. The Chicken and Waffles was delicious. The Strawberry butter topped it off perfectly!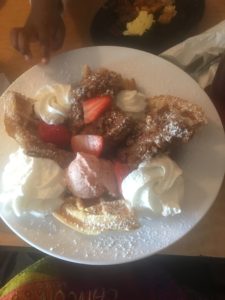 Next up… we headed downtown. There is so much of Our history downtown Charleston, it was important my children got a chance to see some of that, and considering it is Black History Month, what better time was there??
We walked through the City Market first established in 1807.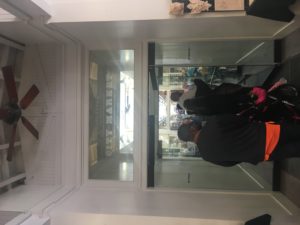 Here you'll find local artisans displaying their craft of all types. My personal favorite, is watching them weave baskets. My heart even skipped a beat when I found the candy I use to eat as a kid.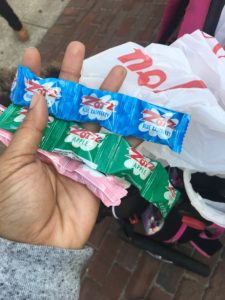 On one of the few cobblestone streets, there's the Old Slave Mart and immediately your thrown back in time. It is the only known building used as a slave auction gallery in South Carolina, created after the city made it illegal for a public auction.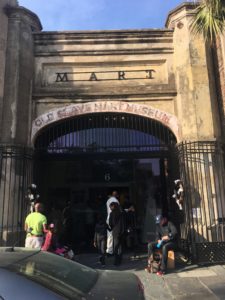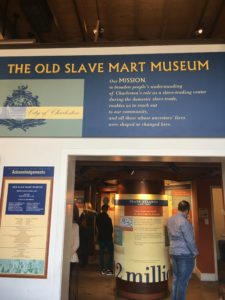 Charging $8 for adults and $5 for students, this walk through museum is a must see. I will warn you, there's a lot of reading.
It focuses on the  the business of the slave trade. Even documenting some of the auctions held and how much a slave was worth.

Did you Know??
Top dollar was paid to those with the most desired skills and solid work. As a 20 yr old man your life was worth a $900, the most paid for any slave. Me, I would have been worth $650 (Talk about inflation)
I wish I could have took pictures…
OK i'll be honest, I did sneak one, but I felt really bad and so I deleted it.
After the tour, we needed a regrouping moment. So, we stopped to take pictures in Washington Square.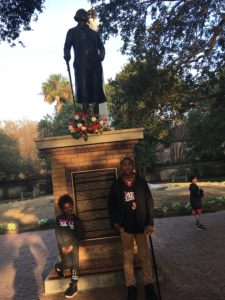 And later… had dinner at Gillies Soul Food. You can see their menu below.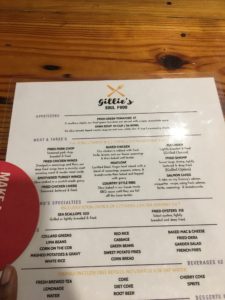 I ordered the baked chicken, mashed potatoes, and collard greens. Unfortunately, the waitress forgot the greens.  I wasn't a fan of my food, but my daughter had the fried chicken and that was pretty good.
Day 3
The Finale
Check out was at 11 am but our host was very flexible. Another reason, I believe I am hooked on Airbnb. There's nothing worse than feeling rushed during check out.
The weather was a bit cooler than the day before, which put a halt to our Magnolia Plantation tour. Here's a $5 off Admission coupon if you're in the area and want to visit. (Only good through February though)
On the way there, we found some really great wall art (my new favorite obsession)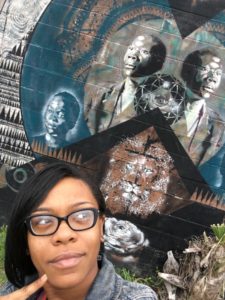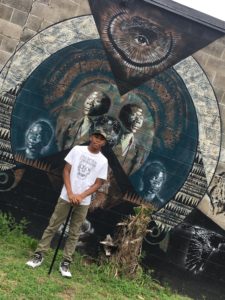 After stopping to get some great pictures, we hit the SC Aquarium. This was Zoe's first time going. She  really enjoyed herself.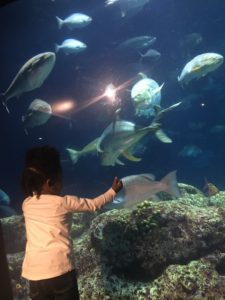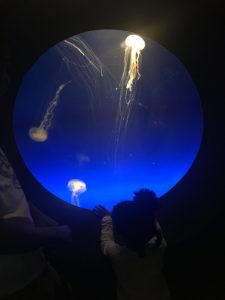 We promised the older 2… after the aquarium we would hit the mall. The Northwoods Mall was in the area, so we went there.
J and my mom wanted to stop at this local cart, Mystic Fragrances, that sells fragrances, incense, oils etc. J was able to re-up on his African Soap and Shea Butter. While I got different incenses. Autumn, the owner, was wonderful and was able to explain a lot of the oils and gave us suggestions on aches and pains.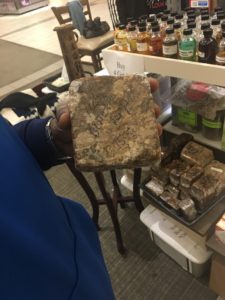 Dinner time came around and it was Seafood AGAIN. We heard some great things about the Charleston Crab House sooo naturally we went.
I forgot to mention that my mom is an Extreme Foodie. So, I live through her and my husband. Even my son, he will try anything.  Jordan on the other hand, she's picky like me.
However I will also like to add my Fried Shrimp, waffle fries, and Coleslaw was very good. The collards were just as good too!
Instead of taking a picture of my food, I figured l'd showcase something more visually appealing for my lobster lovers.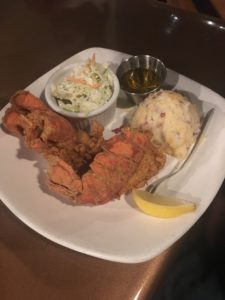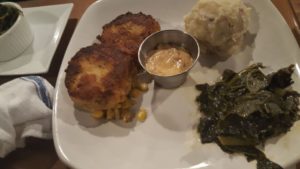 After dinner… It was my turn to hit the highway and just like that we were out.
Thoughts to myself like….
Sometimes it takes for a more mature mind to appreciate some of life's trials and treasures. I spent a couple of years in Charleston, but because I did not appreciate the sacrifice people around me took, it was taken for granted. Rather it was my mom, who said you will not just be a high school graduate with a child, or the slaves that stood on the exact steps I stood on, with a dollar amount on their lives. As if you can put a dollar on a life, and if you can, I'm sure it's a lot more than some measly $900!!!
I will forever love Charleston!!
As always,
The Travel Outlier
Dream. Travel. Live. Repeat!!